The December issue of UK Vogue had Zadie Smith's name on the cover, which obviously meant that I had to buy it (I dutifully read and purchase everything that has her name on it, and so far I have not been disappointed). The issue was dedicated to all things British, which is nice, given that they've been getting rather bad rep lately. Smith had written a portrait of the Queen, more specifically of her common touch. The article reminded me of one my last summer's reading projects, which was called Posh English Girls.
I did a personal Jubilee Tour this July to celebrate the fact that it had been exactly 20 years when I moved to the UK to study. I covered both Scotland and England on this trip (as befits, by a train) and had to think of suitable reading to put me in the right mindset. Since it was my summer holiday, anything too heavy and/or depressing was out. As it also happened to be the 20th anniversary of the passing of Princess Diana, Posh English Girls it was.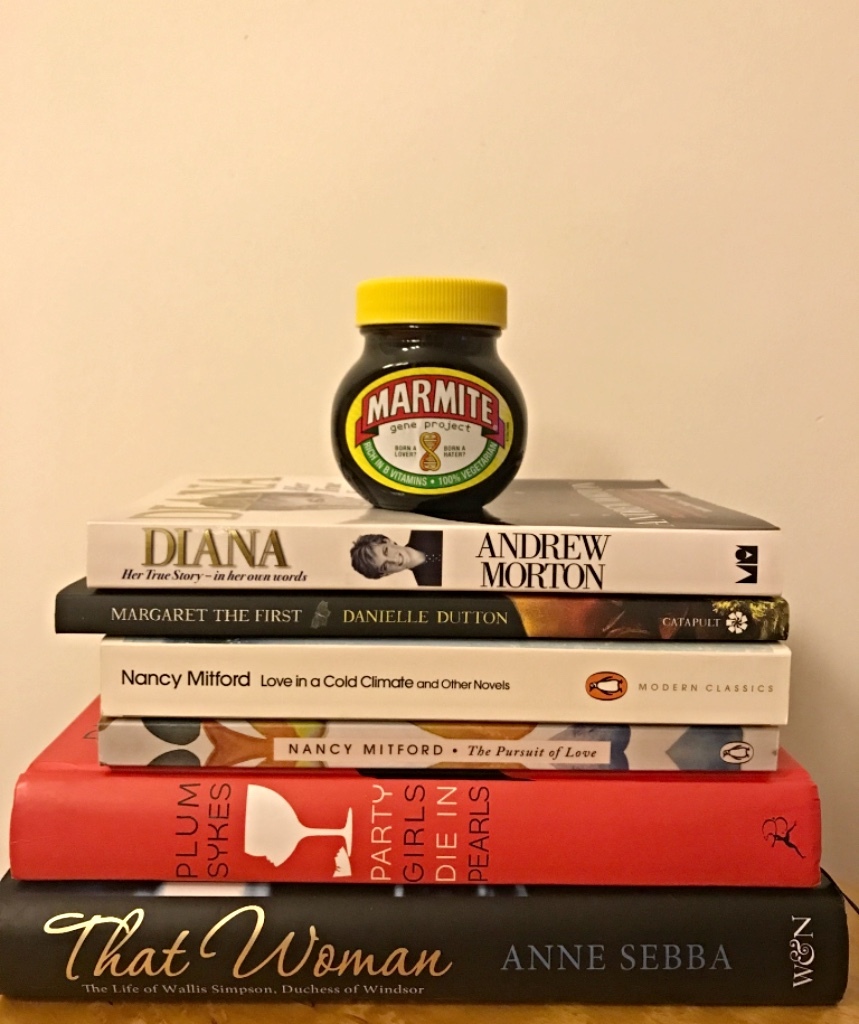 First the classics. The Mitford Sisters are your vintage English Posh Girls, and Nancy's books are a joy to read. She started writing (without proper education, according to her) in 1932 in order "to relieve the boredom of the intervals between the recreations established by the social conventions of her world". The Mitford Sisters were the aristocratic Kardashians of the post-war Britain, notorious for their scandalous relationships, good looks and their public political dalliances with fascism and communism respectively (there were 7 siblings in total).
Love in a Cold Climate must be the most famous of Nancy's books, also made into a tv-series. Pursuit of Love is another classic, largely autobiographical. Both are fabulously and unashamedly posh.
Anne Sebba's "That Woman" is a biography of Wallis Simpson, who was actually American. However given her role in the British history she had to be included in my list – she did die as Duchess of Windsor, after all. Wallis almost became the Queen. She was the mistress of Prince Edward, who became the King of the United Kingdom in 1936. Their relationship continued, but the King obviously could not marry a divorcée (Wallis had two divorces to her name) (Prince Harry must be relieved they have changed the laws since, in case he were to marry Meghan and then suddenly be crowned the King). Constitutional crisis followed and King Edward abdicated 11 months later. His brother, King George VI ("Bertie" with the stammer, made into a film "The King's Speech) ascended the throne after him. The abdicated Edward, who was created Duke of Windsor, and Wallis married 6 months later and lived (more or less) happily ever after (mainly in Paris, where Wallis died).
Wallis was a fabulous character whose life was plagued by all kinds of rumours (closeted homosexuality, fascism, sexual perversions). She was a style guru of the era with a taste for haute couture (Coco Chanel was a friend), whom Edward showered with custom-made jewellery by Cartier (she was famous for her Cartier "Panther" bracelets and "Flamingo" brooches, auctioned after her death by Christie's and Sotheby's). There are many biographies written about her, and her story is fascinating even if the British royals would not normally be one's cup of tea.

Danielle Dutton's "Margaret the First" is set in the 17th century and is a dramatisation of the life of Duchess of Cavendish, one of the Queen's attendants, who becomes the first woman in England to write for a publication. A controversial character dubbed "Mad Madge", she attends a theatre in a topless gown as well as becomes the first female member to the Royal Society of London. The story spans from London to Antwerp to Paris and is overall fabulous.
Andrew Morton's "Diana" tells us nothing we don't already know, but it had to be included for obvious reasons. I started university two weeks after the Pont de l'Alma tunnel tragedy took place and would spread "Diana – the Queen of Hearts" -margarine on my toast throughout the first semester.
Then onto the books you grab when you're well into your third gimlet on the first class coach of the Flying Scotsman. Plum Sykes is a very posh British persona, who wrote "Bergdorf Blondes" in 2004, when chicklit was still happening. Set in Oxford University in the 80s , "Party Girls Die in Pearls" is a nonsensical detective story with lots of yahs, toffs and privilege. A fun, mindless read. As is Bella Pollen's autobiographical "Meet Me in the In-Between". Set in all the glamorous places where the Pollen family lived, it is a well-written and graphic study of a posh person trying to find herself. Apart from books, Pollen also writes to American Vogue, Sunday Telegraph and the Observer. Also, Plum Sykes is contributing style- and society editor to the American Vogue. So that you know.
I wanted to read Mary Shelley's "Frankenstein" while I was in Scotland (she did some of her writing in Dundee, Scottish Tayside), but the weather was too good for that (yes, there can be such a thing). My plan is to do that one day, in a plush hotel library, in front of fireplace with a Lagavulin in hand, windy moors outside.