The number one gifting season of the year is soon upon us, so I thought I'd share with you some tips about fairly recent feminist literature, both fiction and non-fiction. Looking a the stack below, some of the books are actually not that recent at all, but let's not let that bother.
First, "The Natural Way of Things" by Charlotte Wood. I accidentally picked this one up purely based on the pretty cover. Turns out, the novel is a modern Australian version of Atwood's Handmaid's tale. I was re-reading Handmaid approximately at the same time I started the Natural Way, and these two made a very interesting pair to read. "The Natural Way of Things" is a story of young Australian women who find themselves prisoners at a desert, wake up from drugged sleep and start wondering why and how they had ended up in there. They slowly realise that the reason for their imprisonment was their previous involvement in a sexual scandals with powerful/famous men. Set in the present day, the story is very innovative in a sort of sci-fi way that I found addictive, taking into account that I'm usually not into that genre at all. Highly recommended reading.
Mona Elthaway's "Headscarves and Hymens" has become a classic already. A brilliantly educational piece amidst the Big European Debate on how we should position ourselves vis-á-vis headscarves and genital mutilation and generally "mistaking misogyny for cultural difference". The book was published in 2015, so it does not cover all the recent, well publicised incidents that have since taken place in Europe, and further accelerated the discussion about the traditions of the Arab world, often justified in the name of religion. Elthaway herself is a journalist and a vocal commentator of Arab and Muslim issues. The book is shocking in its brutality, but addictive read all the same. I also recommend Manal Al-Sharif's "Daring to Drive", which now, given Saudi Arabia's recent decision to start giving women the permission to drive cars, is encouraging read. Al-Sharif was the young Saudi woman who started the #Women2Drive campaign back in 2011, and was promptly imprisoned for her activism.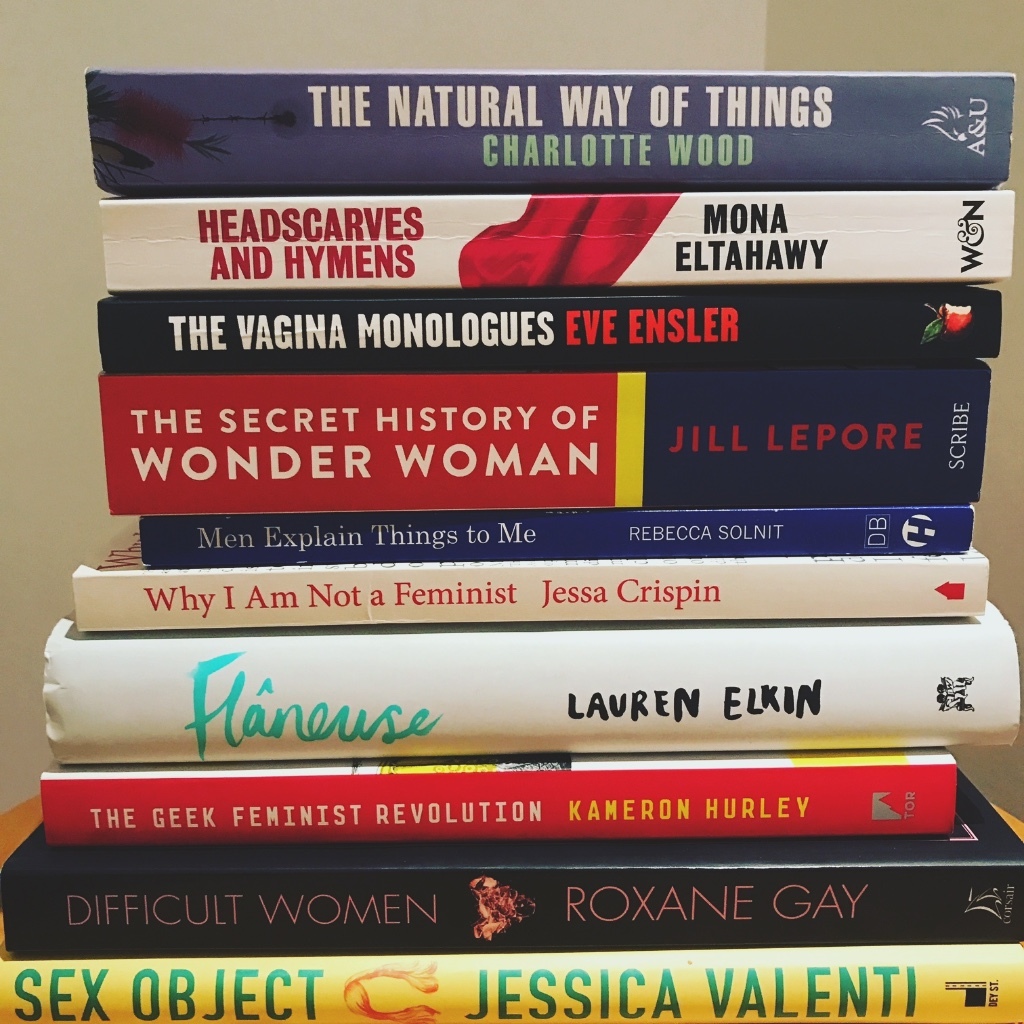 Ensler's "Vagina Monologues" is actually ancient, dating to 1998, but still a fun compilation of short texts about the vagina and female sexuality. I suppose the live performance of the book is the ​schiz nowadays, given that the text itself has already become a pop culture classic. I have not seen the monologues read live, but suppose they're still making rounds in theatres.
Anyone who likes cartoon will like "The Secret History of the Wonder Woman", because, well, it has cartoons inside. Jill Lepore is a history professor at Harvard University. In "Secret History" she mixes pop-culture, history, utopism, gender law and feminism, and the book is a fabulous read for anyone interested in any of the listed topics.
Mansplaining and manterrupting have become household terms, and Rebecca Solnit's "Men Explain Things to Me" is essentially explaining the words in practice. A collection of essays and commentaries on how men continue to explain things to women, as well as on how sexist and misogynist jokes are still the norm in many places. I also recommend Solnit's more recent essay collection "The Mother of All Questions".
​"Why I Am Not a Feminist" is a provocatively titled 21st century feminist manifesto. Its message is essentially that feminism as a concept has been diluted into a fashionable word that everybody likes admitting to being, so called "universal feminism", but what is needed is the move from feminism as a lifestyle to feminism as a collective movement. I have slightly mixed feelings about the book, but recommend reading it in any case. I have fewer problems with the mainstreaming of feminism than Crispin, but her arguments are really interesting – and essential for the evolvement of feminism.
"Flâneuse" is a lovely history of women walking, idling and observing in cities (something considered rather a male hobby á la Baudelaire). The book is a mixture of a memoir, history and cultural meander. I love walking around myself, so this really hit the nerve. Elkin also walks in cities I find particularly fascinating: Paris, London, New York, Tokyo, Venice and London. Excellent travel companion.
​"The Geek Feminist Revolution" I found in New York during a work trip. I am not a fan of science fiction or much anything science, also I don't work in tech, so I first thought I might not like this (which begs the question why I bought it in the first place…). However the essays are brilliant, and many of them cover similar angles with the "Secret History of the Wonder Woman". No tech knowledge required – even the sci-fi and fantasy essays were very entertaining. An essential feminist guide to pop-culture.
A collection of essays about women in modern America. I read Roxana Gay's previous feminist essay collection "Bad Feminist" a year ago and wanted to follow up with "Difficult Women". This one didn't disappoint either. I find reading strong, brash yet well argued short texts refreshing and a nice change to novels. Also because time has lately been of the essence: one can easily squeeze an essay or two even in the busiest of days (although not always, but very often). Gay, like most of the authors on this list, is also a journalist and writes for many major international publications.
Another essay collection/memoir by a journalist/author: "Sex Object" by New Yorker Jessica Valenti. She is also the founder of a hugely popular feminist website www.feministing.com, which resulted in her becoming the target of an unprecedented shitstorm of hate mail and rape threats nearly immediately when the site was launched. In "Sex Object" Valanti records her experiences of everyday sexism of being groped, assaulted, humiliated and whistled at, all topics that have recently made it into the mainstream media, following the #metoo campaign.
I read a lot of feminist literature (I also read many other things, including books written my men). Few things irritate me more than the trend of people shooting from the lip based on half-arsed tweets or Facebook-updates. If many women (and men) still continue to think that they cannot subscribe to feminism, because it needs definition, then why on earth do they not read about it? What I especially liked about Crispin's feminist manifesto was this paragraph: "Do the reading, feel your own feelings, don't take them to someone else. Men have to do this work on their own and for each other. You cannot ask women to spend the next century carrying the burden of your discomfort and confusion. Do you own fucking work, gentlemen." Applies to women as well.
In general, of course we do not need to agree with anything written in books. It is still essential to read actual literature. This includes feminist literature. I've detected a bit of stigma attached to feminist literature, as if reading it would suddenly turn a person into a bra-burning fanatic. How the similar logic generally does not apply to other genres of literature I'm yet to understand. Fact remains that never before have women's issues been discussed as widely as today. Why not be prepared for the debate with some proper arguments and insights offered by so many brilliant authors who have actually done their research? The above recommendations include many essay collections that have partly been previously published in various quality newspapers, so they are an easy way to acquire interesting new angles and raise one's awareness. There's really absolutely no reason not to give some feminist reading a chance. Also, do what should be done, and give at least one feminist book as a present this Christmas.
Pictured is Jennifer Rubell's sculpture at Women Artists' Exhibition in Washington D.C. last Christmas. The piece is called ​Lysa III. "Inspired by a gag nutcracker of Hillary Clinton, ​Lysa III is a fully functional nutcracker meant to be operated by the visitors. The exaggerated female form and destructive action epitomise popular caricatures of women as sexualised objects or aggressively anti-male."