While coffee is the street-savvy accessory toted around like a designer purse, tea is still considered the beverage of choice of people who have taken ill or are otherwise highly boring and possibly very old. I have always been a tea-drinker and kind of understand this. A plain mug of Lapsang Souchong, no matter how artfully prepared, will never have the same appeal to the youth as a Starbucks espresso shot drowned in whipped cream and flavoured syrups. The fact that it is still frightfully difficult to find places that do decent tea contributes to the bad image of tea: you don't want to pay €3,5 for a cup of tepid water with a floating pouch of porous paper that contains what looks like something you would find inside your vacuum cleaner. No, you want to have something that knocks you off your feet and/or leaves a sweet aftertaste, served in a logo-ed container.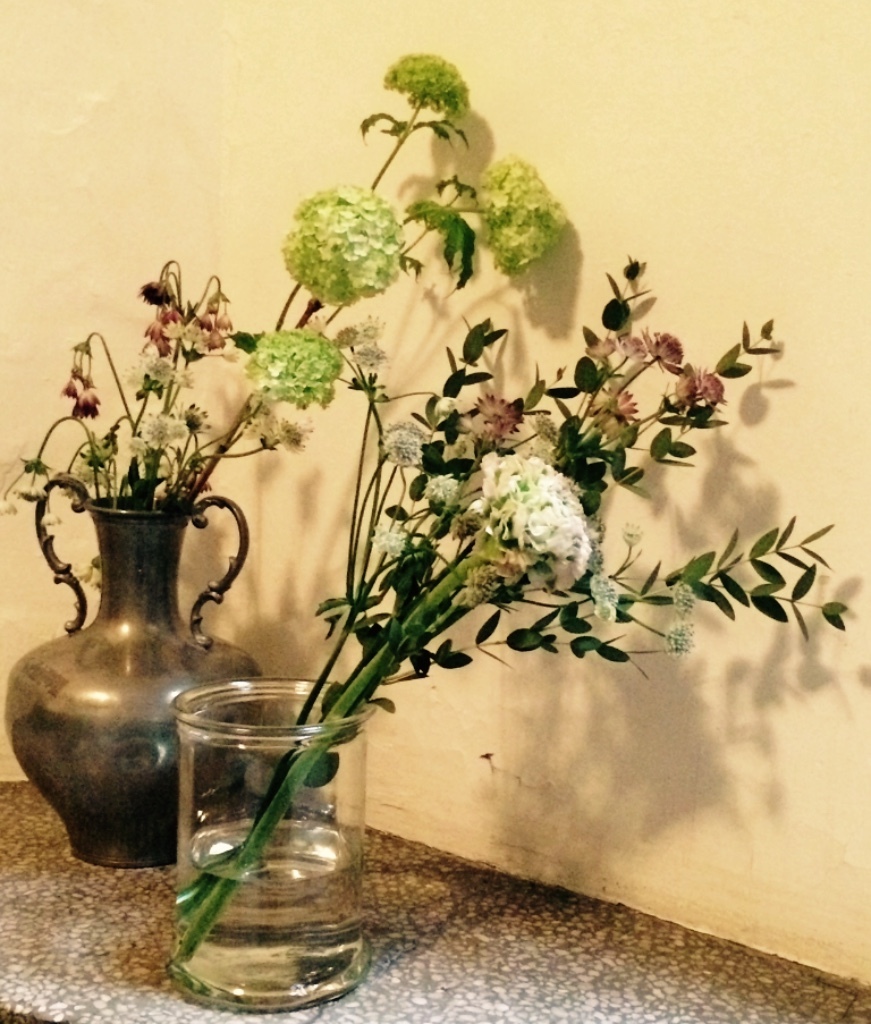 I am a horrible snob as far as tea is concerned – I almost only ever drink Japanese, unflavoured green tea. It is an acquired taste, because it has a very grassy taste, is a bit cloudy, and you don't put sweeteners or milk because you don't want to mess up the delicate nature of the drink. In other words: very boring by many people's standards. I don't like flavoured tea, detest teabags and rather go straight for an espresso in a coffee house if I see Twining-bags being whipped out in lieu of proper tea.
My daily intake of tea is about one litre, most of it green tea that I drink at home. I'm still trying to introduce tea-drinking to office but am not doing very well. I've tried bringing loose tea (too fussy for work), Mariage Frères muslin pouches (the second best option to loose leaves) as well as a proper Kamjove -teamaker, but somehow it just never really caught on. I get inexplicably irritated if I don't have my tea in the evening, and try to make some also in the morning before leaving to work.
I will spare you from the benefits of drinking tea, the internet is full of discussions around this topic so go ahead and have a browse. I am not drinking tea to get any particular health benefits – tea does not give you a kick the way coffee does, but contains caffeine all the same so is refreshing. If prepared correctly. And here comes the rant.
Whatever you do, get yourself a proper water-cooker that lets you adjust the desired temperature. I have friends who laugh at mine, because they find it very snobby (these same friends have spectacularly fussy coffee-makers that usually involve getting specific capsules and performing various routines such as foaming milk and cleansing the beast afterwards, just saying). Proper temperature is important especially for green tea. If the water is boiling hot, your tea will be yellow and bitter instead of green and sweet. You will save yourself from many a mental breakdown by buying a proper kettle and getting the correct temperature, always.
Almost every city nowadays has decent shops to buy tea from. Therefore there is absolutely no need to buy vile teabags at a supermarket. I do sometimes indulge in a cup or two of PG's Tips when in London, but this is more a nod to local tradition than a preferred choice. If black teas are your thing, even they taste better when properly prepared (Lapsang Souchong that I mentioned earlier is a ballsy, smoky, strong tea perfect for winter, by the way). If you feel that loose tea will be too much in the beginning and puts you off tea before you start, try to get brands that do portions that either come in muslin-bags or are otherwise packed in larger pouches so as to give the leaves room to move once in the cup.
The Japanese of course drink their green tea from lilliputian little thimbles. As meticulous as I am with the preparation of tea, I'm less orthodox with how it is eventually being drunk. I like my teacups filled to the rim and they also need to be spacious things that can hold at least 200ml of tea. I hardly ever just sit idly and drink tea – it is usually an activity combined with internet, writing or reading. Which brings us to the next point: what to read while drinking tea?
Tea cannot be drunk as fast as coffee (reference here being espresso), so you are likely sitting down, hopefully comfortably. I often read a book while I have my tea, which is another reason I favour larger cups (refilling tiny cups is maddening, unless I make a pot, which I hardly ever do)(Note to self: start making pots of tea in 2018). Anything goes, really, from magazines to newspapers and of course books, and here are my two latest favourites from the last category:
"The Standing Chandelier" is the latest novel by Lionel Shriver, and you will almost finish it while your tea is still hot. The subject matter is light enough and the book itself is not terribly long. "Can men and women ever be just friends" is the question the book tries to answer. It is at the same time heartbreaking and awkwardly hilarious, and of course we know by now that Shriver is a fantastic writer. A great little piece with tea and cookies, plus the edition I have also has some sparkles on the cover, so it goes really well with your Christmas decorations and festive lounge-wear.
Despite tea being considered more boring than coffee and (definitely) alcohol, it does not mean your reading should be. I just finished "The Red Parts", which is an autobiographical take on an old murder trial of a relative. It's written by Maggie Nelson, young American, whose writing has been described as Didion-esque. She has an entirely unique way of telling a story, her language is fascinating and she's added unexpected personal reflections to the plot which makes for truly captivating reading. The book's storyline means the text is inevitably also very gory at times, with details to match, so it's not necessarily your regular jingle bells-read, but if you are in a lookout for something a touch darker, read this.
So, come 2018 I will be drinking tea as usual and hopefully find my way back, if even temporarily, to milky, fermented wonderful Chinese Oolongs. I bought a lovely new cup to welcome the New Year with, it's pictured below, comes from Astier de Villatte and is so delicate I probably will not dare use it at all.
Also finally, today was the shortest day of the year. Summer is soon upon us.