I suppose we've established my semi-serious obsession with potions that are intended for one's face. This is me wanting to share with you a few thoughts following more than two decades of trying beaucoup des productsand treatments, all in the name of good skin.
I've never had a problem skin. Apart from the blackheady nose/zitty forehead – situation during my teens I've never had big issues with my skin. With age it's become more reactive (to weather, alcohol, stress), shows signs of rosacea and feels very dehydrated. As I've never really had any allergies to cosmetic products, I've been able to go gung-ho with testing a variety of stuff in the hope of discovering the holy grail of hydrated and glowing skin.
Japanese sheet-masks bought en masse, often without particular thought for the ingredients, hyaluronic acid bright-blue paste smeared onto face once a week, under-eye patches to revive puffy eyes (kept in the fridge for maximum firepower), lots of acids, retinol and peels to expose a new, healthier skin.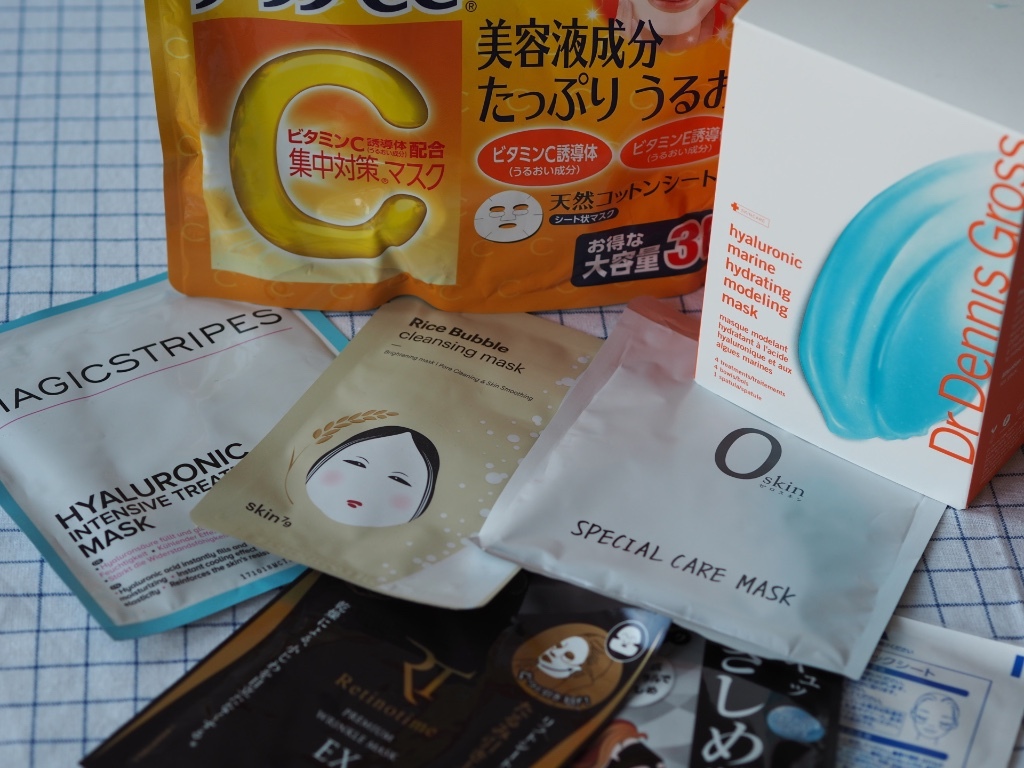 I've hovered between pharmacy-products (I suppose I should be writing French pharmacy products given the current craze for pharmacy cosmetics produced in France), natural cosmetics and high-end luxury stuff, veered from minimalism to maximalism. At one point I was convinced that a regular facial was absolutely necessary, so in the name of research I tried mesotherapy and various other sorts of treatments for two years or so.
I am yet to try the new led-masks and other techie beauty gadgets people rave about, but came across a version of them at an exhibition by artist Juno Calypso (both red picures are taken at the exhibition "The Salon", at Melissa Gallery in London, which is an installation showing mannequins in a beauty salon). I still need further convincing.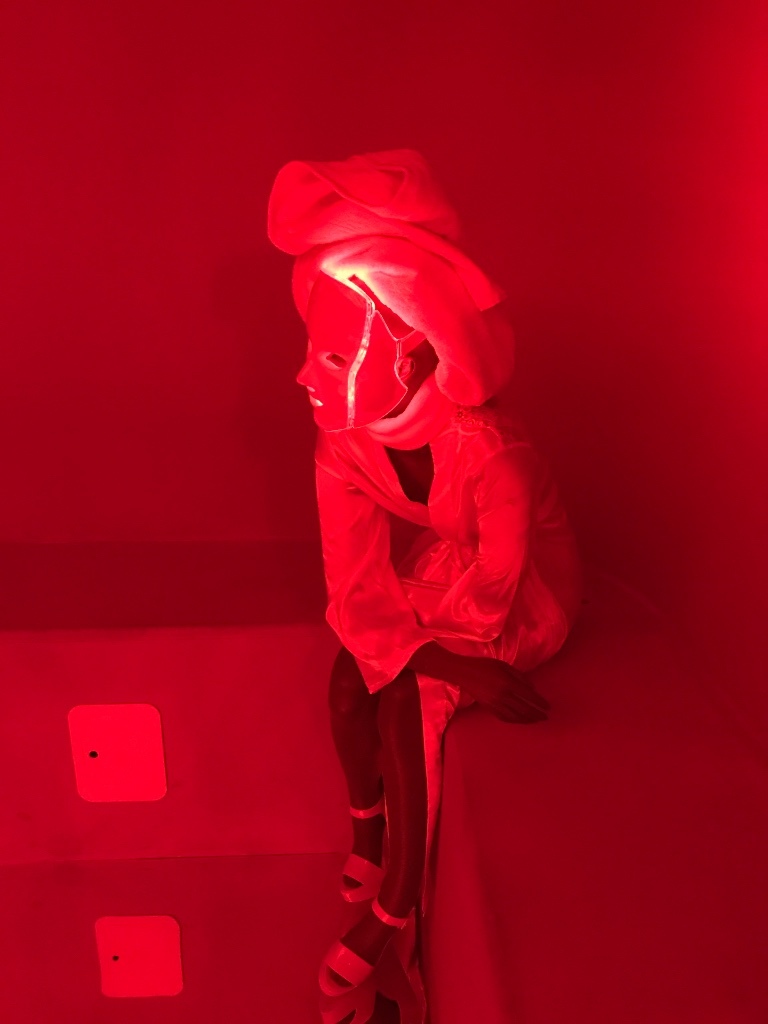 You ask, is any of the aforementioned useful, is any of it working? Fair questions.
What I can report back is that you have to be patient with this stuff. Trying anything for a week will not do the trick (I love it when people try vitamins/supplements for a week and go "nothing happened so I stopped". These are people who would not say "I studied Chinese for a week but didn't learn it so I stopped", for example. But I suppose we are conditioned to think that beauty-related products need to perform miracles overnight).
Second, nothing needs to be expensive, but take a look at what you are paying for. I repeat: the most expensive is not always the best. The current skincare routine trend has massively increased peoples' awareness of the beauty industry, products and ingredients, but it's still not necessary to spend all your waking hours decrypting each element in the INCI-lists of your moisturiser.
Third, facials are fantastic. Pick one with products you know to suit your skin and choose the treatment that includes the longest massage. That will have the longest-lasting effects on your face (unless you're doing invasive stuff such as injections etc, but that's not really a facial anymore anyway). Massages are the best for circulation and reducing puffiness.
Always SPF. This doesn't need any elaboration.
What made the biggest difference? you ask. Some time ago I'd clocked altogether some 2,5 years of running from one doctor/nutritionist to another to sort out a multitude of issues. The biggest change (for better) to my skin was made through my gut. The latest issue of Porter -magazine has more on this, but I'm happy to confirm that yes, get your gut sorted and your face will follow.
Nothing I put on my face has had as big an impact as the stuff I take internally. Herewith the true skin saviours: Linseed oil, and Omegas 3,6 and 9, preferably in oil form because it absorbs better, plus I also take Omega 7 (a Nordic berry called Sea buckthorn has lots of that stuff, the orange capsules in the below picture). The trick: you have to take these daily, for months. And months.
It also helps if you're taking the right stuff – there's no universal unicorn-dust to get clear skin, so you have to find out what you need. But for anyone who doubts whether supplements actually work, I can say that yes, when taken correctly they do, and also I have not been ill for over a year (knocks on wood).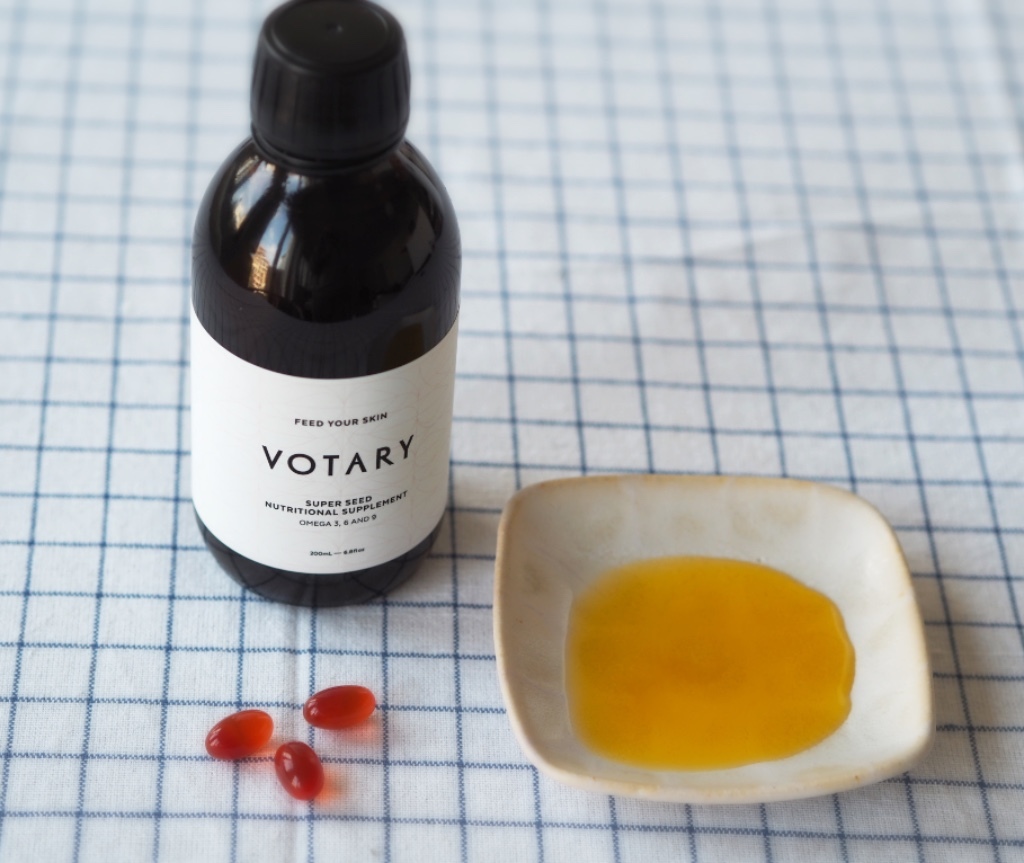 I'll still continue my experiments with various products, but am more and more moving towards natural skincare, though am lagging a bit behind as regards makeup. Also once I find a good, non-synthetic SPF intended for face I'll share with you.

And as with everything in life, it's good to stay curious but also a little bit cynical. If the potions and creams did everything the advertisers promise us, no-one would have acne and we'd all walk around wrinkle free.