Move over, weird Hollywood ménage à trois between Brad Pitt, Angelina Jolie and Jennifer Aniston. There's a new home-spun intra-EU-marriage crisis in town: Colin and Livia Firth.
There's but one thing we have to understand about other people's relationships: we have no idea what goes on behind anyone's closed doors. I thought the Firths' marriage was the stuff dreams were made of. A handsome, level-headed couple (a Brit and an Italian), both genetically blessed, successful, in the possession of wealth and health and both rallying worthy causes (Colin Firth is staunchly anti-Brexit and in the process of changing his nationality to Italian, Livia is an advocate for sustainable fashion, among many other things).
(I must rush to add that my assessment of the stability of Firths' marriage has been solely based on the publicity shots of them grazing the various red carpets together. Given that even Rose McGowan managed to squeeze out a smile while having to pose with the film-producer who earlier had raped her, I now realise that I quite possibly must reassess some parts of my personal belief-system/Weltanschauung.)
So imagine my shock when I read that not only had the Firths decided to break up a few up years ago, but that during the break-up Livia had had a rather tempestuous liaison with an Italian journalist. The Firths have since reunited, but the worms from the extramarital affair- can are all over the place and the British tabloid press is having a field day. 
I was at a cafe the other day and happened to witness a peculiar relationship-situation between a middle-aged couple. The atmosphere was tense. They spoke very softly (I was trying to make up what they were saying but there was too much background noise), mainly it was the woman who spoke, the man becoming increasingly desperate-looking as she went on. Suddenly she pulls out a piece of paper from her purse. It was folded in two, and looked like an official document.
Very calmly she starts tearing the document in front of the man, who, very awkwardly, tries to sneak around whether other people are noticing (I pretend not to notice). Once she's shredded the document, she leaves. There are bits of paper on the table and around. The man asks for the bill, hastily gathers the bits of paper, leaves the money and takes off. I see he left a few bits behind and am desperate to see what's in them, but the waiter has the same idea as he runs like a maniac from nowhere to gather the evidence of a scene that not many others even realised took place. I later spot the woman at an art exhibition. Looking at her, you'd never know what had taken place just a couple of hours earlier.
That's the thing. You'd never know, for variety of reasons. One of them being the length that people go to conceal trouble in their relationships. Whatever it is that merits the keeping up of appearances – kids, house, the institution of marriage, reputation, money, fear, fear, fear – the result is usually soul-destroying.
People are generally erratic and emotions cannot be scripted. Same goes for relationships. Yet our Western religion, ie. the Hollywood entertainment industry and its heteronormative films and TV-programs, has us all firmly believe that there is but one way to reach happiness: by finding a partner, getting married and living happily ever after. Amen to that. 
There would probably be no art without all-consuming love and fucked-up heads it leaves behind, so most of the emotions, twists and crises have already been minutely portrayed and described in music, paintings and literature. However I've managed to find two novels lately that do not fall into the usual relationship cliché-pit. Both make very good reading even if relationship-voyerism was not your thing.
Here they are, warmly recommended:
Sally Rooney's Conversations With Friends and
Julian Barnes' The Only Story.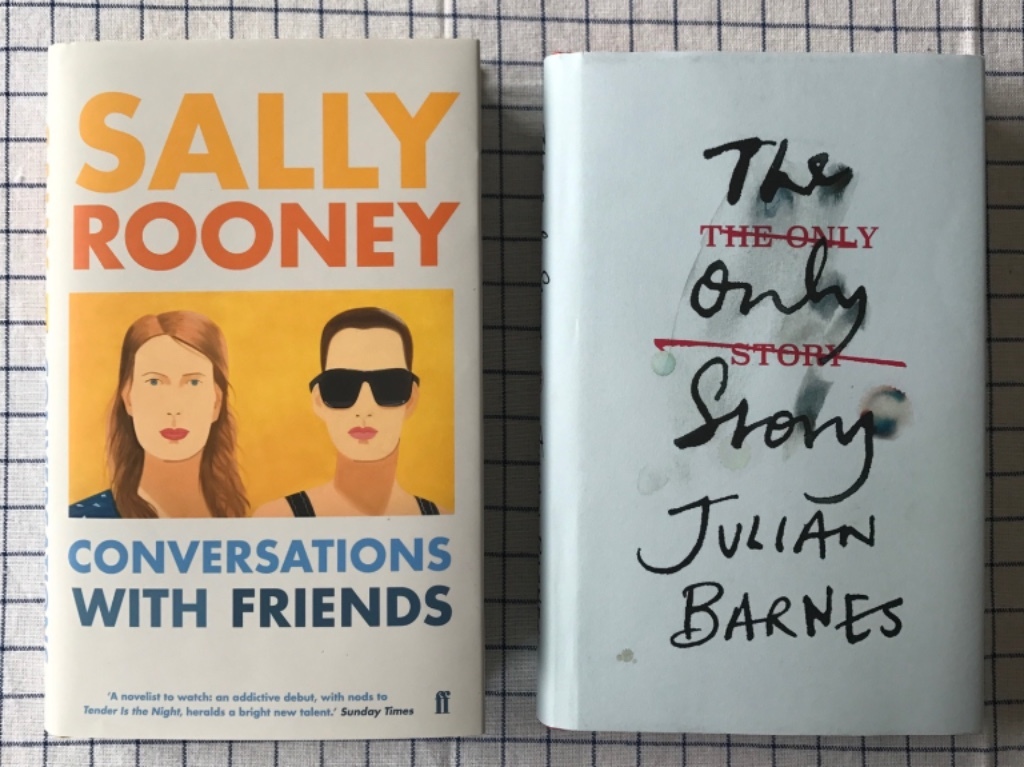 On a slightly different note, I also just finished a debut novel by Scottish Gail Honeyman: Eleanor Oliphant is Completely Fine. I was positively surprised after hastily judging it based on the praise on the back cover. There's again a new angle to having relationships, not having them, about being lonely and all that. In the end I actually found the book to be about something completely different than relationships, though, because the actual story runs deeper than the plot. Read it and decide for yourself. Reese Witherspoon has already bought the film rights, so it will be coming to cinemas near you soon, as well.
Pictured below an invitation to the release party of Vincent Peal's new photography book in June. The title of the post is taken from an art exhibition currently at Bozar, Brussels.