It's the New Moon! It actually already started the other day, with something being on retrograde with Jupiter et al, but it's still a good time to do a little mid-month bilan of important things.
Books. 
I had to read Laura Carlin's ​The Wicked Cometh because I'm a big fan of Sara Waters' novels set in the Victorian London. You might know her ​Tipping the Velvet, Fingersmith and others, which are often described as "sexy romps", which sounds like something also invented in the 19th century, but don't let that put you off, the books are actually really good (and have received most British literary awards under the sun in case you care for that kind of thing).
​The Wicked Cometh is also set in Victorian London and features female protagonists. It was a fun read but lacked the brilliance of Waters. I would recommend it to anyone who enjoys an easy Victorian read with a generous amount quickening of pulse and quivering of flesh, which is the standard lingo in all novels set in those times. But also I think you should read the Waters-novels, as they are really good.
Louise O'Neill's ​Almost Love is another Irish relationship-drama (the other being Sally Rooney's Conversations With Friends) and seems like the Irish really have a knack for turning fucked-up relationships into brilliant literature. Almost Love is another surgically precise account of a twisted love-obsession of a young woman, and O'Neill has made the protagonist unlikeable to the extent that is almost fascinating.
Fire Sermon by Jamie Quatro continues the relationship issues-category, though maybe has a couple of additional layers to it, what with the author being older than Rooney and O'Neill – which is not to say their books would be any more naïve or immature. Fire Sermon is equally about obsession, but interestingly brings religion into the mix, which makes it a fresh take on an age-old topic.
Alice Munro's ​Too Much Happiness is a lovely collection of short stories for when you are taking public transport or having a glass of rosé while waiting for a friend who's running 15 minutes late.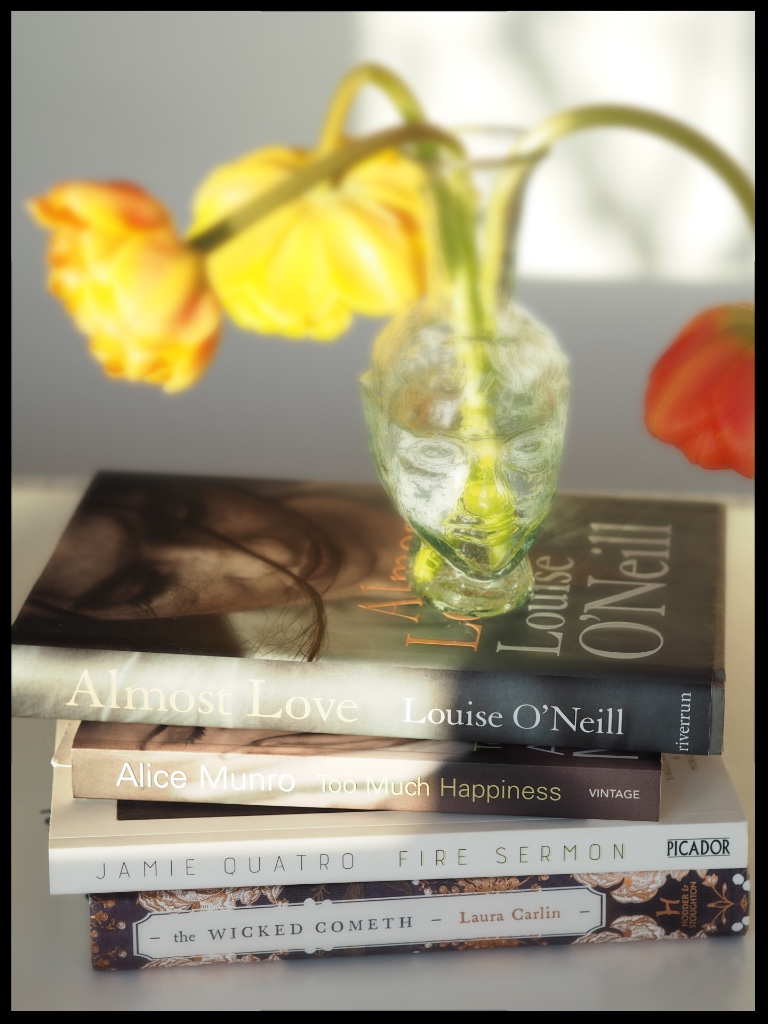 Toning armpits.
Yes, it seems to be a thing. The minute the sun is out the panic sets: Why have I overlooked dry-brushing every inch of my body the last 8 months?? WHY? People giving advise in magazines that armpits should be trained for sleeveless tops are not being helpful. 
Preparing to expose the lower parts of my legs to daylight counts as a part-time job as it is, so I cannot take the additional stress about trained armpits this summer.
Hint: Vita Liberata's Body Blur in moderation (I mix it with some normal cream. I'm whiter than Xerox paper). It washes off, does not smell, has shimmer but not Boogie Nights -glitter, is not extortionately expensive, has various shades and is literally the cream equivalent to 10den tights. 
Other.
– Beyoncé at Coachella. Old news, but still.
– Upcoming movie about Mary Shelley, released 25 May in the US, watch trailer and then get into the mood by reading Romantic Outlaws by Charlotte Gordon, a story about the legendary mother and daughter, Mary Wollstonecraft and Mary Shelley.
– Diptyque's special edition "34 Boulevard Saint German" -candle. Yes, spring might not be the obvious season for candles, but this makes you forget spring-cleaning and think of Rive Gauche instead.
– Peonies very soon.