I was running my usual Saturday errands when a T-shirt on a shop window stopped me. "Don't Trust Boys". In my age one has seen lots of things emblazoned on a T-shirt, yet I became inexplicably irritated by this one.
There is probably nothing I miss more from my youth than my long-lost Pearl Jam t-shirt, purchased from their merchandise shop in Seattle. Dear people, this took place during the time when my school had a special class room with computers in it so that people could go and marvel at them. Internet was for MS DOS -code, not for ordering t-shirts from across Atlantic. I fetched the address of their fan shop, got the brochure after a lifetime of waiting (no website, remember) and then placed an order for a t-shirt and two stickers.
Merchandise arrived, I was overjoyed, promptly spilt something on the white shirt and had to dye it green. Still, I liked to believe I was rather happening in my Pearl Jam logo t-shirt.
I still like a nice statement t-shirt, despite the fact that my current lifestyle guru Fran Lebowitz feels very strongly against any garment that has pictures and/or writing on them ("Be realistic. If people don't want to listen to you, what makes you think they want to hear from your sweater?"). Fashion tip: make your own feminist t-shirt with a fraction of the cost.
A clever t-shirt is just that: clever. Some of them more, most of them unfortunately less so (I saw one last week in a window, again, of a rather upmarket clothes-store that said "I Do Yoga And Drink Tequila". Very well. The t-shirt was 60€). The craze of feminist – and other politically conscious t-shirts means you will of course want your company to jump the bandwagon and sell people expensive garments that speak the truth. But a t-shirt that says "Don't Trust Boys"?
The t-shirt in question is intended for grown up women to wear (the shop is upper-end high street) and boys clearly are kids who are not yet adults. I was trying to rake my brain for an explanation for the choice of wording, but could not think of any. Could it be that marketing departments are starting to miss the mark here? What next? Shirts that scream "Girls Are Shit"? Any chance of leaving kids out of this?
Irritated, I marched on, only to be stopped on my tracks by the next Schaufenster that had piles of sanitary pads in the window display. Intrigued, I looked closer. Yes, periods can be horrible. They can cause debilitating pain, PMS from hell, or simply be a bloody nuisance. Imagine the worst period you ever had, and then imagine having to go through it while being homeless.
Yes, in 2018 there are still thousands of women living in European capitals without access to sanitary products. Those who live in shelters and depend on small allowances often have to prioritise between buying food or hygiene products. It is a revolting reality, which a Brussels-based organisation BruZelle is addressing with their current campaign: buy sanitary pads to be further distributed to shelters in Brussels, deposit the pads at the various drop off points around Brussels (there is guaranteed a pharmacy and/or a shop just around the corner from you!) and that's it. Really. That's all.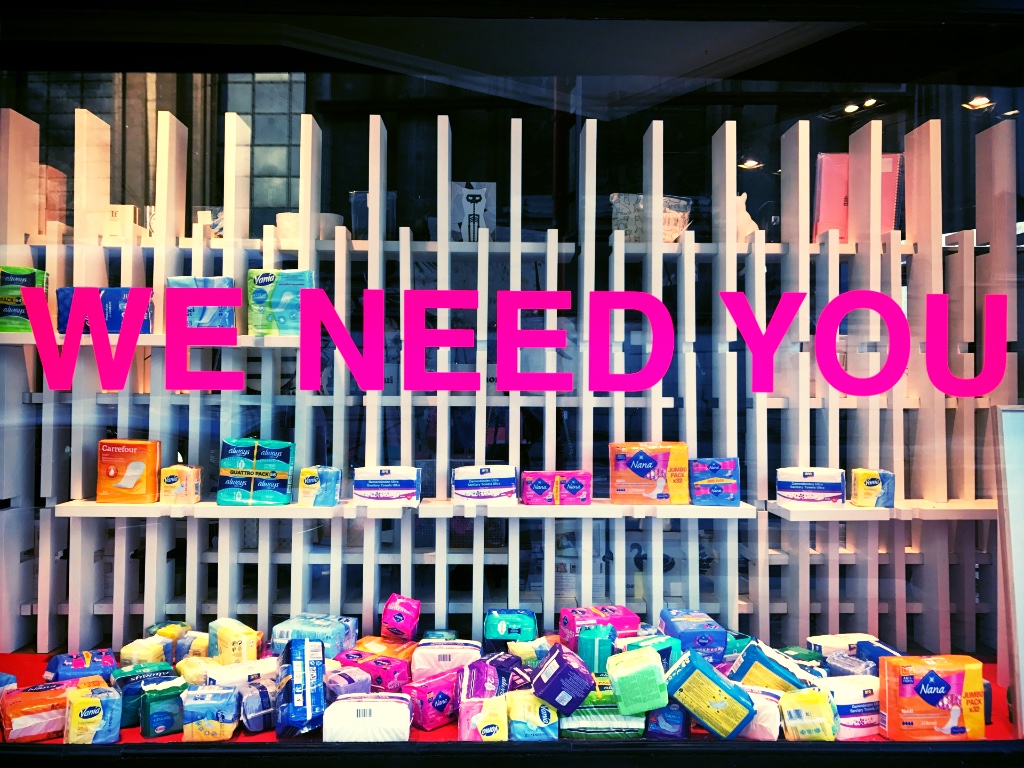 Those of you who live in Brussels, do consider taking part in the ongoing campaign, it is a brilliant idea and contributing has been made so easy there's no excuse. You will find further information on their Facebook-page. For the record: I am not part of the BruZelle -organisation. I came across the campaign yesterday, bought sanitary pads prontissimo and brought them to a shop in my neighbourhood.