We are only halfway this week, yet we've already witnessed the miracle of the Lindo-Wing (also known as the birth of #royalbaby, though as we know, the baby was not the miracle as much as the record-time grooming of the mother was, so that she could be presented on the hospital steps as a proof that she is fulfilling her duty: giving birth to babies) and the blossoming bromance between Macron and Trump in Washington D.C.
Despite my body aggressively signalling me to sit on terraces with a glass of rosé in hand the minute the sun is out instead of staring at the screen at work, I have (almost) managed to resist the temptation and instead have made progress with the pile of books that I have accumulated lately.
Short stories come in particularly handy when terrace beckons and evening reading time is reduced to three quarters of an hour or sometimes less. You will want to check out Curtis Sittenfeld's latest, ​You Think It, I'll Say It. I thoroughly enjoyed the stories – the overarching theme is how often we miscalculate and misread others, especially when our prejudices get the better of us.
The collection opens with a story about Hillary Clinton on a presidential campaign trail with a journalist. It's an interesting description about an almost-symbiotic relationship that sometimes forms between a politician and a journalist who both need each other while at the same time have certain roles to play.
The journalist will end my exit interview in the way she ends all interviews, which us by saying: "Is there anything I should be asking you that I'm not?" … I'll be casual, as if it's an afterthought – I'll say this: "You've mentioned many times over the years that you find me unlikable. Hoe do you think I find YOU?"
Stories include a gender-studies professor having a one-night stand with her taxi-driver, the effect Trump's election had on a relationship, frustrated newlywed on a honeymoon and much else.
I don't even remember how I came across Alison Rose's Better Than Sane: Tales from a Dangling Girl but it arrived yesterday. It's a memoir of a California-girl who moves to New York and has a shot at acting, takes lots of various drugs and eventually becomes a writer at The New Yorker. Rose also wrote regularly to Vogue.
I see this book being somewhere up there with Joan Didion and Eve Babitz, as far as coming of age stories of cool American women are concerned. The book is by no means new – it was published in 2004. Contains lots of cool-people namedropping and makes one want to book the next flights to the Big Apple. I'm only in the very beginning so can only say that I like it so far, but I'll let you know in case of unpleasant surprises.
For some reason I feel the need to share with you a picture of another Brussels shop window. A high-street clothing brand woke up one morning and thought that ganging up with Playboy would be a fabulous idea to increase sales of clothing (the brand sell clothes both for women and men). It would, like, totally resonate with the current environment. Plus hey, kills two flies by making a nice tribute to Hugh Hefner, no?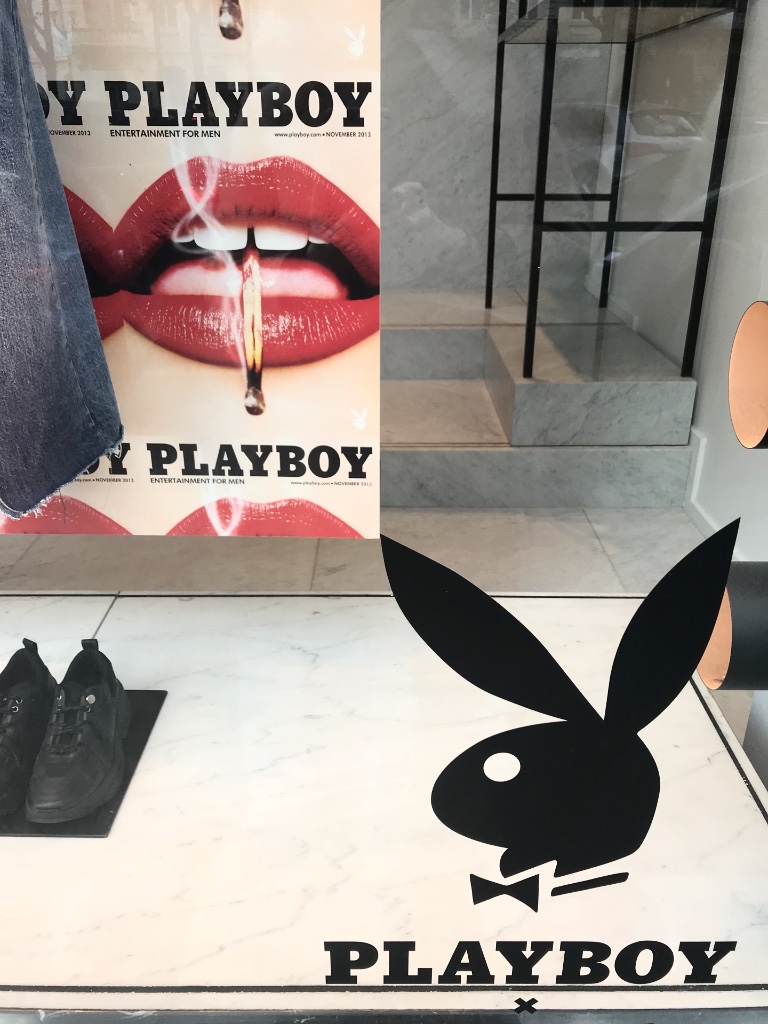 And hey presto, the cover of November 2013 Playboy issue has been multiplied and magnified and plastered on the shopwindows – I take also in the brand's numerous other stores across Europe. I took a long, good look at this spectacle in order to find the part that makes this ironic and goes like "hey, it's joke! JOKE!", but no, it's an actual collaboration with Playboy, the brand that for decades has reduced women to masturbation objects.
Congratulations for the epic fail in identifying the l'air du temps. Well done.