It's hard to type amidst all the excitement of the ongoing National Stationery Week and the news that ABBA is making a comeback. However I'll give it my best as it is about one of my favourite hobbies: washing my face.
I thought about updating my ritual after recently attending an event about washing one's face. And please keep your snarks to yourself: I know for a fact that people pay big money to participate in retreats where they are taught to breath. So. There you are.
I have quite possibly told everything there is to know about my skincare ritual in earlier posts, and the actual washing of my face understandably is not of great interest to many. However, I've slowly changed to natural cosmetics so I thought to share the best of with you. Here's the current drill:
Cleansers:
Votary's Super Seed Cleansing Oil is a long-time love and a winner as far as cleansing oils are concerned. The consistency is right – not too runny, not too jammy. Takes off everything, is removed with a cloth which doubles as a scrub for me, as I cannot have physical scrubs (the grainy pastes) at the moment. It smells fabulous and the green bottle is beautiful.
Odacité's Green Ceremony Cleanser with Matcha and Spirulina is a green powder that you mix with water and it turns into cleansing mousse. It is absolutely genius. If you have super dry skin, only use a couple of times a week. Definite bonus: I cannot be bothered with the kale/spinach -juicing business in the mornings. Washing my face with spirulina kind of is the same thing as drinking a salad, therefore justifies a breakfast croissant, no?

​Toners:
Whamisa Organic Flowers Toner. I am about hundred years late from the Korean skincare ritual craze, but here we are. The trick with this fermented toner is that you layer it onto your face. Up to seven times. It does work, even if you manage only 2-3 layers (that's what I do most days, except last night when I did the full seven, as a celebration of the recent political developments in Korea) and plumps skin with moisture. I prefer this in the evenings (when I have more time to do the layering) to let it work overnight – I feel it leaves a shiny surface to my face which I don't like during the day.
Josh Rosebrook Hydrating Accelerator is a moisturising spray of aloe water and herbs. When I cannot be bothered with the Korean layering-business I grab this and am done in a flash. This is also great for traveling as they make a smaller 60ml bottle.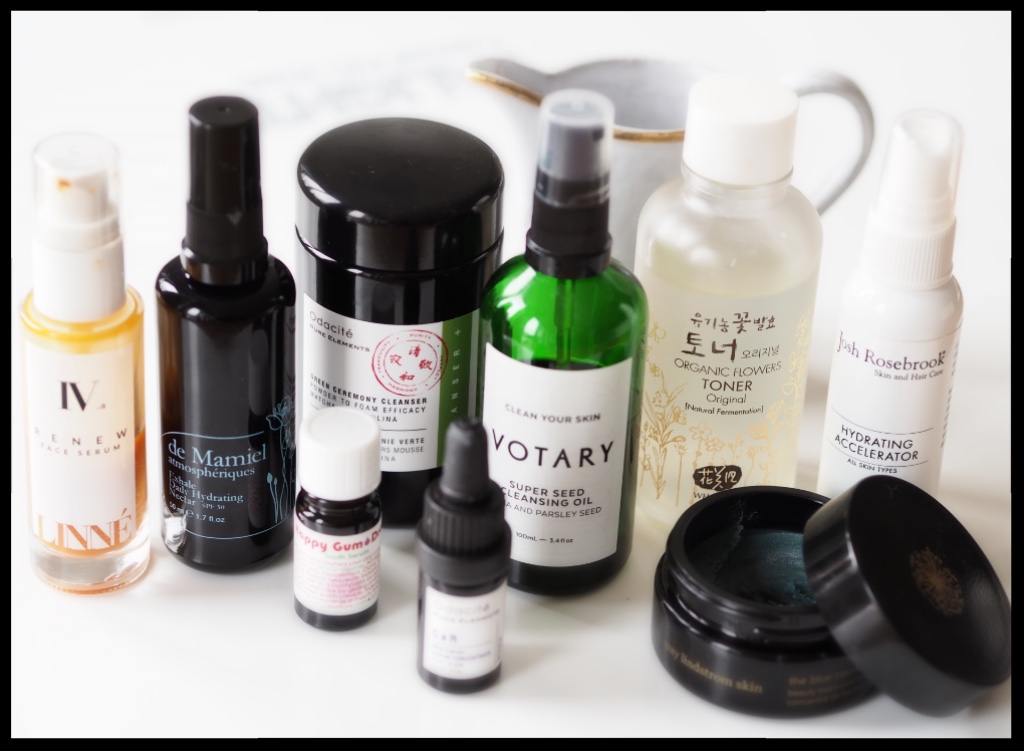 Serums:
Linné Renew Face Serum has a deep orange colour, which I like to think gives my white face a golden sheen. The serum hydrates, gives a nice glow without being oily, and is a superstar I discovered a couple of months ago. Linné is an American brand that have a neat collection of very potent skincare that they produce in small batches. I use this both in mornings and evenings.
Odacité Wild Carrot Serum Concentrate is an oldie that I keep going back to. Glow-giving (green) oil concentrate that I mix with my moisturiser in the morning. Does not feel oily on skin as it absorbs really well (and fast, which is much appreciated in the morning rush) and does what it says. In the good old days when there still was Paris Colette, they were always out of stock. This means Parisians use this stuff, which for the rest of us mortals shall be a sign that this unassumingly looking tiny vial is, in fact, the impossible to find je ne sais quoi – nuggets of gold turned into a magical, miracle-making cool-potion.
Moisturisers:
de Mamiel Daily Hydrating Nectar with SPF 30. I like this product inordinately much. It has a slight tint, meaning I can skip foundation/makeup and it has SPF of 30, which sees me through summer in the city.
May Lindstrom Blue Cocoon Beauty Balm. It's still the original balm-to-oil -deal with blue tansy. Since the launch of this balm half of the universe have gone mad with adding blue tansy absolutely everywhere (I am looking forward to finding it as a flavoured syrup at Starbucks one of these days). Too heavy for me to use in the mornings, but absolutely fabulously calming in the evenings, especially if my skin has been exposed to lots of sun (not a frequent occurrence in Brussels, mind). There are many decent (and more affordable) alternatives available, but I keep coming back to this.
A random thing you quite possibly do not absolutely need:
​Living Libation Tooth Serum. I know. First world product. Living Libation is a Canadian brand that do quirky skin- and haircare products. In my quest for interesting natural products for dental care (oil pulling had to go), I purchased a small dropper of their ​Happy Gum Drops. You add a drop in your toothbrush/toothpaste and, well, then unicorns shall make your teeth super-white. In reality, it possibly helps keep your breath fresher for longer, so if you want to switch your regular Listerine for a natural product, you might want to give this a try.