Despite my being mentally still somewhere around March, the actual fact is that it's midsummer soon and I'm again desperately late with holiday planning. One would think that after all these years of… well, anyway.
So June is here and people have permanently moved to terraces and beaches. I have some excellent reading to recommend for both locations. Excellent, because they are all either short novels or collections of essays:
– Virago Publishing have done a beautiful edition of Nora Ephron's "Heartburn". You all have read it already, but it doesn't matter. The book is lovely. Re-read.
– "Less" by Andrew Sean Greer won a Pulitzer for Fiction this year (in case you are into these kind of endorsements before reading a book). A (fun!) novel about a failed gay writer who runs away so that he does not have to attend his exes wedding. I thought first the book is about self-help, you know how to make do with less, but turns out it was one of the nicer reading surprises this year.
– Lionel Shriver's essay collection "Property" includes one of my favourite novellas ever, The Standing Chandelier. I am also a huge fan of Shriver generally, so completely biased here, but the collection is an absolute treat. So treat yourself. 
– Philosopher Peter Singer's "Ethics in the Real World" includes 85 short essays about absolutely everything in the world. As in veganism, abortion, healthcare, holocaust, climate change and Volkswagen. You'll be well covered to argue your point for the remaining of this summer's cocktail receptions.
– Truman Capote's "Summer Crossing". First love story of Holly Golightly's posh big sister, also set in New York.
– "A Spy in the House of Love" by Anaïs Nin is also a kind of a version of Holly Golightly, this time through Nin, who in the novel expresses her own vision of female sexuality.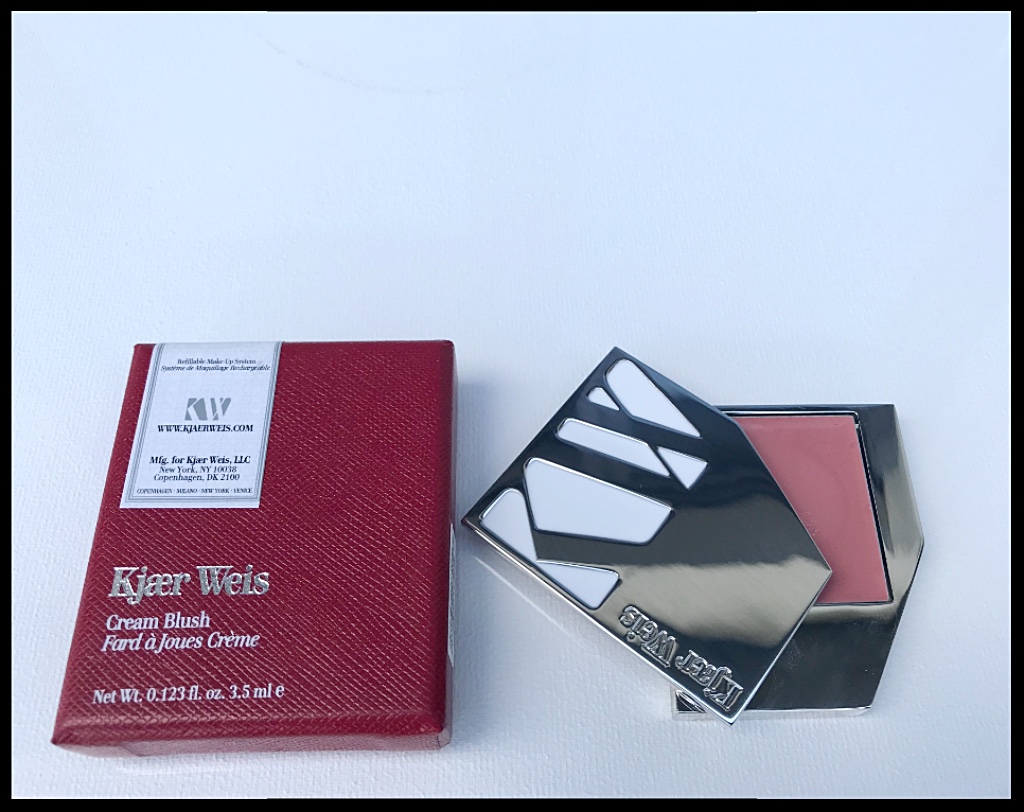 Then moving on to something different. I generally have difficulties with coping with the Danes, because they are so annoyingly perfect at everything. Lately a former Danish top model came up with an all-natural makeup line, the eponymous Kjaer Weis, and I fear you might need to take a closer look at this. I'm doing very well with switching to natural cosmetics, but have been struggling to find good natural make-up alternatives to my current, long-standing favourites. I feel I am dangerously close to have found some now.
First, the box. It looks like something you would get your stuff packed in at Cartier (NB. I've never gotten anything from Cartier, but this is what I imagine it would feel/look like).
Then the case. It is the most luxurious piece of makeup packaging I've ever held in my hands. Including all the Chanel's and Suqqus of this world. It is heavy, it is sturdy, it looks amazing and makes a *serious click* when you close it. It is absolutely stunning, and also it is refillable. Because Danes and their eco-consciousness, obvs. And, hallelujah, praise the gods of this world: no millennial-bloody-pantone-pepto-bismo-pink in sight!
And finally the product inside, that's why we get this stuff in the end of the day. A beautiful cream blush that I apply with fingers. That's it. Beautiful. All-natural, all-organic. Tiniest hint of scent. Stays on, doesn't crease.
It is not cheap, I can tell you that much, but the refills are more reasonably priced. I got mine in Helsinki, Kjaer Weis is not yet available in Belgium (that I know of, please correct if I'm wrong), but Net-a-Porter stock it.
And speaking of Porter, I got the latest issue of the Porter Magazine and there's an interesting interview of Bo Derek. Interesting in that she tries desperately to defend Trump and also makes the point about girls and women having the responsibility in casting situations (when #metoo is brought up by the interviewer). "We are already asking our men to pull back a lot", she concludes, referring to their animal nature and that breeding instinct. Read yourself.