It's above +30 celsius in Brussels, sunny, hot and holidays are almost here. Also it's hot, sweaty and dehydrating, which is why I'm bringing you the best of black and white for July. Again, I've thought of everything. You're welcome.
Binchotan charcoal
The black stick in the jug is a piece of Binchotan charcoal. It's there to purify water. Those who live in Brussels know that tap-water here contains mad amounts of lime, calcium and chlorine. Many people buy bottled water, most go for various kinds of filters. I filter mine and recently came across using activated charcoal as water purifier.
Binchotan charcoal has been used in Japan for centuries for cooking purposes. To purify your tap water you simply pop a 15-20cm stick of charcoal to your jug of water, let it bind the lime and chlorine and soften the water for couple of hours and basically Bob's your uncle. One stick lasts for 4-6 months after which you can use it to get rid of smells in your fridge.
Does it work? I filter my tap-water anyway before giving it the Binchotan-treatment (all this is far less hassle than you would think). It does soften the taste of water. Whether it gets rid of electro currents and negative thoughts in my apartment I'm less sure of. But definitely worth a try.
​Odacité Black Mint Cleanser
I've come to realise that I'm rather a fan of anything Odacité. It is a French-Californian brand of high-end natural cosmetics, founded by Valérie Grandury. There are already a couple of cults among the products, such as the glow-giving wild carrot serum concentrate. I also muchísimas love their Green powder cleanser. Now I've been introduced to Odacité's charcoal and rhassoul black cleansing gel. 
It's black, minty and lovely, and removes everything it needs to, and does not leave skin unnecessarily dry immediately after. If you don't have time for refreshing masks and such in the mornings (no-one has, I'm just kidding), using the cleanser makes you feel that you've done a bit of sheet-masking in the morning rush as well.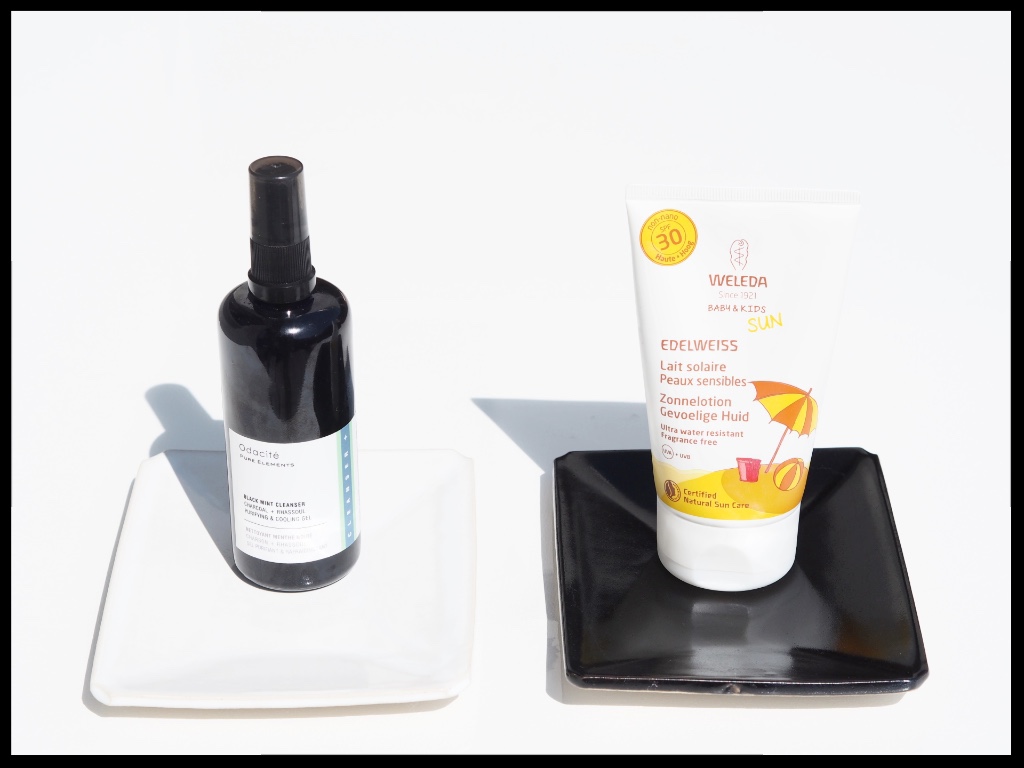 Weleda Edelweiss Sun Cream SPF30
Moving onto the white stuff. Please do not buy this product unless you are 100% sure no part of your body will have any contact with any item of clothing and/or anything else. To be fair, the cream does what it says, but it is one of those sun creams that turn you white(r) than you usually are. Literally. Really white. It also stays on like a devil and stains absolutely everything it merely brushes against and does not come off.  
I made a mistake last summer of purchasing a high-end sun cream of SPF50 which also was one of these maddening white spawns of satan. After I mourned a couple of ruined swimsuits and one black kaftan (no amount of soaking/googling for advise/taking everything to dry-cleaning could save any of these garments) I decided never again, but for some reason was not vigilant enough when I bought this one. So take this as a warning.
It is intended for kids and babies, but seriously who would want to ruin their clothes too? Getting this b*** off clothing is no fun, I can tell you that much. Yes, it is a heavy-duty product for sun-sensitive pale ghosts like myself, but there are alternatives.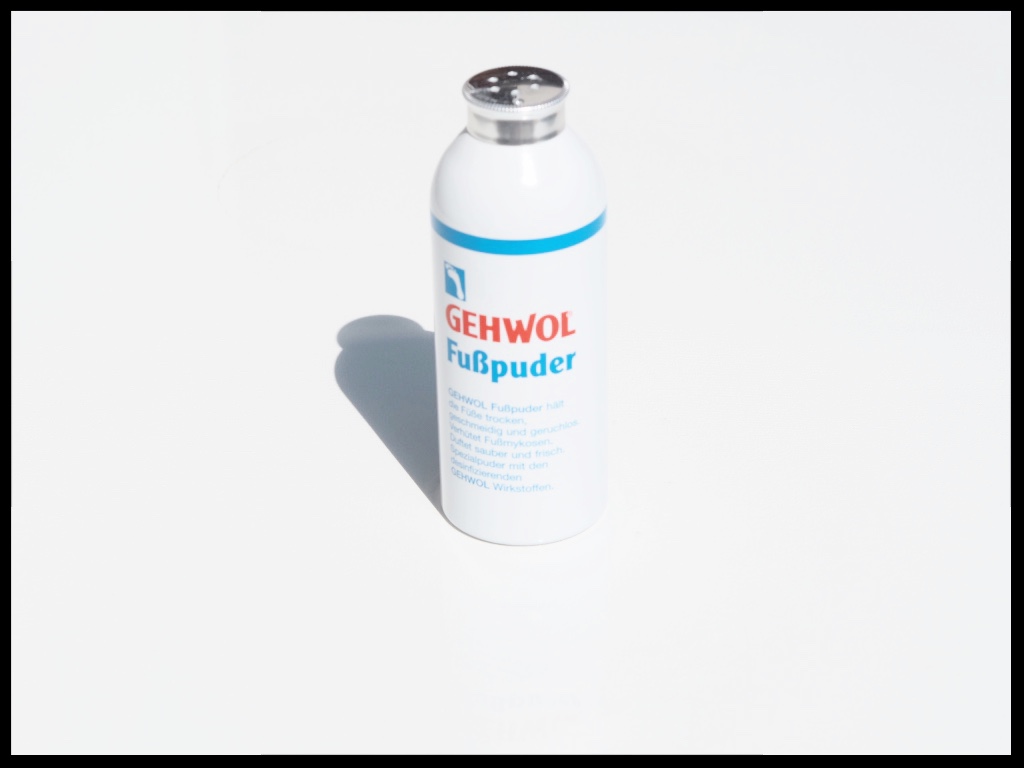 Gehwohl Talc
There are nice talcum powders that come in quaint cardboard containers, covered in decorative Italian wrapping papers. They smell of glamorous things like pomegranate soaked in unicorn's tears in Florencian monasteries and you leisurely apply them onto your skin using a large puff while dreaming of your next holiday in Grasse in the French Provence. These are indeed lovely products and I've known to own and love some of them.
When it's +32c in the city and you have errands to run, work to do and your feet have swollen about two shoe sizes, you go for German Fusspuder.  
Trust me on this.