Gwyneth Paltrow. There. Now I've mentioned her, so I don't have to get back to her in this post which, in all honesty, has been inspired by recent excellent articles about her lifestyle empire Goop (there's a superb long-read in the New Yorker and a recent take by Hadley Freeman in the Guardian). Also Life In a Cold Climate just posted about this, have a look because there's also recommendations for some fresh lifestyle stuff.
Got that out of my system, then. I just wrote about my fantasy California lifestyle, which essentially means ogling at property-porn of the rich and the beautiful, with a side of Oprah's spiritual podcasts. I don't know exactly where to place myself on the big chart of detoxing one's life, though. It's too vast, and too full of controversies.
Eating
Keeping oneself alive is complicated business. 25 years ago the craziest thing anyone had heard of was Madonna's prep diet for her Blonde Ambition -tour. Canned tuna flakes in water! Crushed pineapple mixed with cottage cheese! The woman is mad! Today, people I know activate cashew nuts overnight (including me).
I'm an omnivore, but increasingly questioning the justification to eat beef. (I don't eat poultry because I hate pigeons and bits of poultry on my plate would only remind me of pigeons. This possibly counts as a reverse personal ethical statement.) I should eliminate gluten because my doctor says I'm carrying a gene that is likely to develop into a full-on celiac disease. Unfortunately this doctor is not present in the mornings to physically detach me from the croissant-basket at my coffee -place.
Fantasy: Stella McCartney. While I technically don't know her, she comes across as a cool person with decent principles she actually sticks to. I put her in the eating-category because she's a very old-school vegetarian-turned-vegan and does not suggest we should consume excessive amounts of coconut oil to "eliminate dangerous fungi and lesions" from our bodies.
Reality: Personal food pyramid basically consists of crisps and rosé wine, with occasional bouts of conscious eating (= short-lived attempts at salad, legumes and weird, imported grains from exotic countries). However, there's some woodoo that I do, which is to keep an activated charcoal stick in my water bottle to eliminate something that apparently is necessary to be eliminated, because I read it somewhere.
Cosmetics
Oh, minefield. I am willing to pay (near) astronomical sums of money for skincare products that are effective and pleasant to use. Whether they have been developed by chaps in white coats at Swiss clinics or by unicorns in San Francisco is irrelevant. I'm not keen on forking out my monies for brands that have concentrated on advertising campaigns rather than actual product development (Top tip: If the second ingredient in your luxury night cream is mineral oil/some other petrol industry by-product, you are paying for an advertising campaign, because the cream is worth very little. The first ingredient is usually water).
I'm not specialised in this issue enough so it's only my opinions really: I am not sure how much of my "chemical intake" I can reduce by switching to natural cosmetics. Also I don't know how necessary this is. I have not had time to read all the academic research in this world to come to a scientific conclusion whether aluminium in my deodorant causes cancer or not. I try to approach cosmetics as something to cleanse and treat my skin with, not as an evil conspiracy by nasties (this is becoming a regular feature in product packaging. No nasties! Produced without nasties! Eww).
Fantasy: Emma Watson's approach to beauty and self care, as per her interview with Into the Gloss (google Emma Watson and ITG). Again, old-skool. Very little nonsense, an appropriate amount of hippiness, but none of the bordering on military -ranting about how chemicals are evil (they are not. Even natural ingredients count as chemical components. Duh).
Reality: Strong penchant for high-end natural cosmetics. Feel virtuous after slathering self in the lovely-smelling ointments. Also: Regularly freaks out about hair. Buys any industrial silicone-concoction whose INCI does not stand the light of the day and is likely banned in the EU, solely based on a picture/recommendation of an "influencer".
Photographed below a tooth serum and a lip serum. The tooth serum is supposed to "bequeath botanical blessings upon my teeth and gums". The lip serum is applied with an aventurine crystal. The lip thing I actually do use. The Happy Gum Drops I am planning to use in lieu of Angostura the next time I'm preparing daiquiris.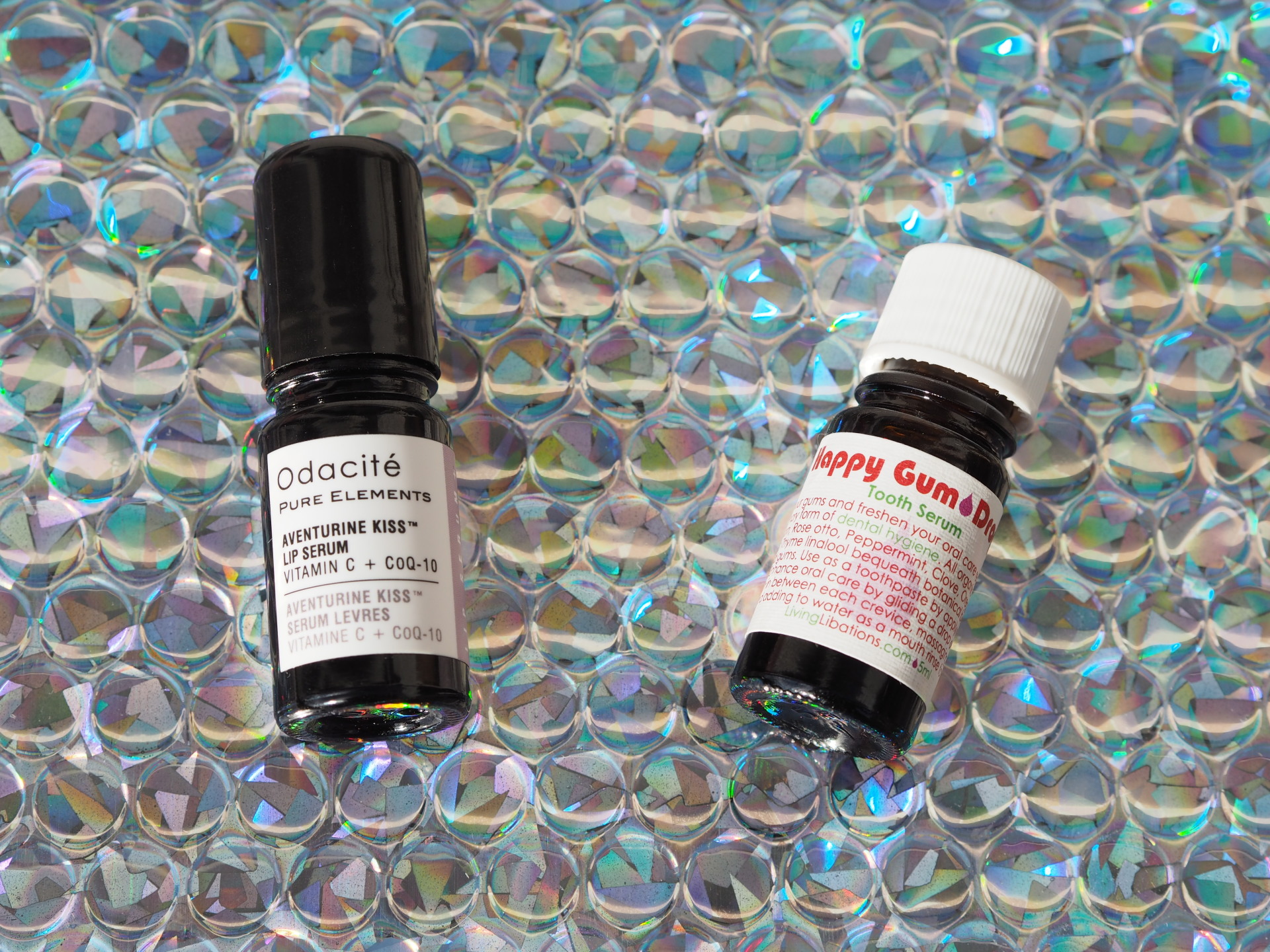 Other
I cannot eliminate toxic people and negative thoughts from my life simply because I work most days, which can sometimes be a spectacularly overwhelming combination of these two. I tried to fend off bad vibes by carrying a crystal in my pocket but forgot it there, and it nearly caused my washing machine to break (causing further bad vibes). Victoria Beckham, who always has crystals with her, obviously does not do laundry.
Writing down thoughts in the morning and/or keeping a gratitude journal seem like such lovely ideas. I also thought that 15 minutes of oil-pulling, dry brushing, stretching, meditating, staring at my vision board for "a couple of minutes daily, inhaling deeply and reminding myself of what I'm aiming towards" and preparing photogenic chia-bowls would make for a nice, low-maintenance morning routine (all lifestyle gurus say it is super-important to have a morning routine. I've simplified my routine to be in sync with my lifestyle and it nowadays consist of "waking up and leaving to work").
Fantasy: Garance Doré who lands on the hippy side of history and keeps her suggestions subtle (ie. being responsible and conscious of having hundreds of thousands of readers). Despite being quite far out sometimes, Doré is honest and candid and chill.
Reality: Need to "self-discover": read books. Need to clear head: Indian head massage.