Exactly one year ago I went live with the first Kassandrakomplex -post. I had nothing figured out: no strategy either for content or for advertising. No big plan for the future, no ideas how to expand or monetise. A year on and I can report that this has not changed.
I wanted to write about things that are of interest to me, as well as share book and skincare recommendations mixed with my concerns about the current state of gender equality. The focus was to be, and still is, heavily on text at the expense of visuality.
When I started blogging I was fully aware that I was spectacularly late to the blogosphere-party. How could there possibly be space for yet another half-baked rant-outlet? Turns out, there was. Thanks to the pesky web analytics services, I have a fairly good idea of my readership (alas, only in volumes and geographical locations, not who you are and what you think about the world – or this blog) and you people are becoming rather an impressive bunch.
I've written extensively about my thoughts on many things over the past year, but very little about myself. This was a conscious choice from the beginning, but I have slowly started to change my mind about that. The reason I read any blogs are the personalities behind. That's what makes them interesting. Therefore I will try to quit the double standard and make this blog more personal. For all you know Kassandrakomplex- author could have been a middle-aged man (which also would have been an interesting idea)!
So, just to reassure ye of little faith, I'm not a man. I am a career woman in early midlife- situation who's prone to overthinking everything and undermining the skill of not giving a shit. I arrived in Brussels a decade ago, which consequently means that most of the important people in my life permanently reside in different countries. Being part of the big Brussels expat-tribe where most people are just visiting is both odd and quite comforting. It's like living in airport arrivals and departures halls in rotation.
I cannot escape my work entirely, it is a world that owns you rather than the other way round. I live in a bubble in many ways – Brussels bubble and expat bubble – and it has become really important to me to find a way to escape all of that every now and then. Taking my head elsewhere requires, in the end, very little effort: I read and write.
My outside office interest are far and few, but taken seriously: I adore fashion and love literary fiction, and I am notoriously picky with both. I am already sharing with you what I'm reading, so as a next step I thought about showing you more of what I wear. I am aware that this might end up being a short-lived exercise because I don't own very many clothes and I rarely shop (thus Kassandrakomplex will unlikely turn into a style blog any time soon).
There are various reasons for that – one of them is possibly that lately I've moved on quite dramatically from my nearly two decades -long all black -getup that was supposed to channel some sort of minimalist Scandi-chic, but in real life made me look like Morticia Addams. I'm still transitioning to "everything is the new black", so shopping has been like pulling teeth recently.
Not having prepared properly during this weekend's Lisbon getaway (friend's wedding) despite the optimal picture-taking conditions (sun) and a professional photographer in situ (albeit there for the bride and groom, obviously, not to take street style pictures of the guests), I only have pathetically slim pickings to offer despite the big promises above. I will work on that.
In the meanwhile please try to get excited about this Lisbon selfie which features a turban that I skilfully tied myself, pair of Céline sunglasses  (spelled the old way because I cannot understand the need to remove the ​accent aigu, it's like Burberry becoming Bürberry or Benetton changing to Benettön just because) and a white linen shirt. Should you wonder where the luminous glow on my face comes from, it comes from walking around in a sweltering +36 degrees Celsius heat. You're welcome.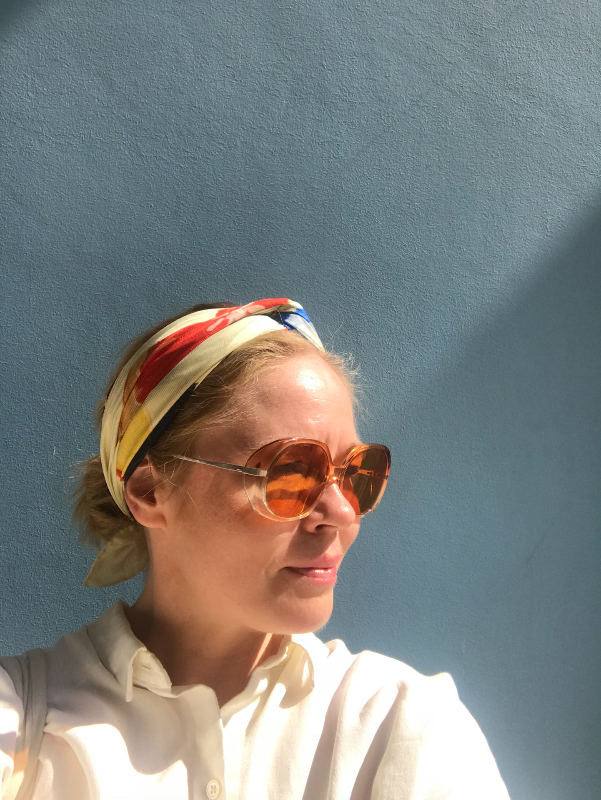 Finally, I want to thank you all for reading Kassandrakomplex – in the end that's what keeps me going. Do not hesitate to give me feedback in whatever form you prefer – email, the comments plug- in below, instagram or Facebook. Thank you again. Really.
Here's to the first year.