A lame saying that is often true: "Never judge a book by its cover". I was browsing at my favourite book-joint Passa Porta in Brussels the other week and came across Caroline's Bikini by Kirsty Gunn. It looked rather chick-litty and I was thus not immediately convinced, but knew Gunn to be a brilliant writer and Passa Porta has an excellent curator, so I left with Caroline's Bikini.
If you want an inventive and new literary point of view on how to dwell on relationships, this is exactly the thing. In the beginning I was slightly disturbed by the many footnotes and references that I found to be a tad gimmicky. Then the story took off with some new turns and the footnotes became fewer. The book is so meta in so many ways that I am still not quite sure what it was really about.
In short, the story is about a man (Evan) and a woman writer (Emily) who have known each other since childhood. Evan asks Emily to record his story (to write a novel about it) when he hopelessly falls in love with his landlady Caroline. The book is a record of the meetings between Evan and Emily, always taking place at various London pubs over copious amounts of gin and tonic.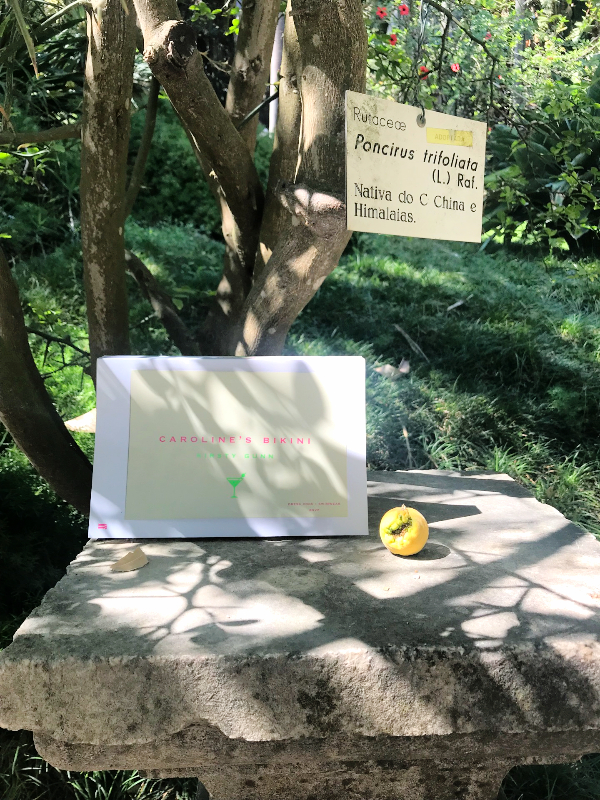 Caroline's Bikini photographed in Lisbon Botanical Garden
Trailing very close to the narrative of a desperate love story between Evan and Caroline, the book is also an account of a creative writing process. Emily is a freelance copywriter and her obsession with recording Evan's story causes her to forgo many much more lucrative writing gigs. Thus I the book is as much about literature in general as it is about people losing their minds over unrequited love.
So Caroline's Bikini is not really a novel about a relationship, but rather a rearrangement of a writing process, showing the exasperation of the author when nothing takes the story forward, and the many false starts in the process of constructing a novel.
I enjoyed the read – despite being rather uneventful (which is the point) and dark in its subject matter, Caroline's Bikini manages to be also really funny and witty. There you are. I read it during a weekend break in Lisbon, and the book proved to pair extremely well with sun, rosé and this excellent Portuguese cheese, pictured below: