The annual work trip bootcamp is getting closer and preparations are stepping up. Today it's about the face – body was dealt with in a previous post. I have but one advise: hydration. Regardless where you travel and for what reason, you'll never go wrong with extra hydration.
In most cases work travel accommodation conditions are not much different from any other trip – you'll be staying in a hotel, which is likely to have running water and a mirror. However, you will be mostly on the road, and for good parts of the day separated from your belongings (I'm not saying I have all my stuff on me all day every day when I'm not traveling – what I'm saying is that there is no office desk drawer that houses makeup and other things for touch-ups during the day).
I have come to notice that slotting in even the shortest quarter of an hour for checking hair, makeup and the state of one's tights in the daily work trip itinerary generally speaking is impossible.
Thus be prepared for anything, and have your routine mastered so that it takes a nanosecond to do, and that it an be performed to perfection anywhere, usually with random people looking on. Good places to practise: rush-hour metro/tram/bus or in the toilet of a (moving) train or an airplane. The latter two are particularly challenging because of the ghastly lighting.
Makeup essentials
We shall rule out any kind of wild experiments, which are much welcome at any other time. The main goal is to look presentable and fresh when feeling exactly the opposite.
Anything that does not smudge, budge or make you look like a cakey extra from the Addams Family can be packed along. I like the ​Glossier Stretch Concealer that I often use together with Laura Mercier's Tinted Moisturiser for a light yet lasting base.
I have taken to love whatever Hourglass do – ​Ambient Lighting Palette is an old favourite (not too dark, not too red). Their highlighters are of fantastic quality, and should you need to look decent on camera/in pictures, they work really well for that. They give the right amount of sheen without being Saturday Night Fever spectacular. So the palette is coming with.
For eyes the quick go-tos are Fenty Beauty Pro Filt'r that ensures any eyeshadow is not moving anywhere until I absolutely want it to – I am talking about round-the-clock durability here. A very subtle eyeshadow I've come to love is by Kjaer Weis, in shade Angelic. German organic brand und Gretel have interesting makeup, and I like their multi-use Creme Eye Stick, which is a surprisingly nice coppery tone (it only comes in one shade) also for pale skin and blue eyes.
I always pack a ton of lip products regardless where I am going, ranging from balms to lip liners and lipsticks. They are the quickest and easiest way to either divert focus from my bloodshot, tired eyes or to simply take the makeup situation to another level (red lip = never fails, though it's high maintenance. Always have a compact mirror at hand).
A quick pick me up: Spritz face with a mist. Caudalie's Grape Water spray is excellent for this, and it comes in a handy travel size.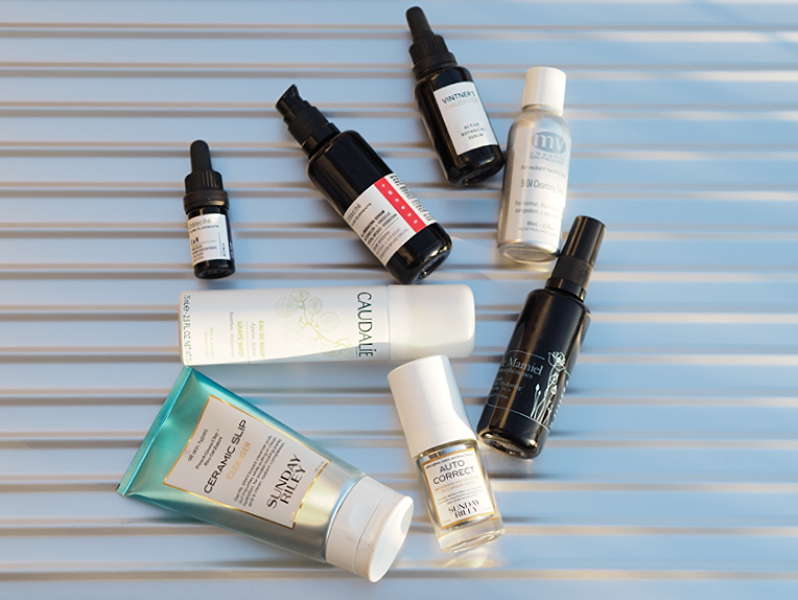 As for skincare, I have no surprises here. Everything needs to perform and nothing must break out my skin. The products in the picture make for a very solid selection of skincare to be taken for a work trip – there are no masks and/or scrubs, but I find there's never time for them. Also, they tend to take up rather a lot of space, unless one decants everything in small Muji – containers (which brings us to the time – situation again).
After a lengthy break I wanted to try new stuff by ​Sunday Riley, and find their ​Ceramic Slip Cleanser to be really good. Gentle, effective, very mildly scented, works both evenings and mornings. As a second cleanse, which can also double as a (quick) treatment I use ​9 Oil Cleansing Tonic. Autocorrect by Sunday Riley is a great eye cream for tired and puffy eyes.
For the day it's Odacité's All-Embracing Serum first, followed by de Mamiel Daily Hydrating Nectar mixed with the legendary carrot seed oil by Odacité. In the evenings I find Vintner's Daughter to be enough.
These are all very potent products that deliver in unusual circumstances. I have tried taking sheet masks to trips (thinking why not because they hardly take up space), but cannot really say they would deliver much improvement as far as extra hydration is concerned.
Top tip: Forget about in-flight beauty treatments
The classic beauty-blog travel tip of applying either sheet masks and/or other visible treatment ointments on your face when boarding an aircraft is rarely an option on a work trip. Especially if you are seated next to your boss who wants to go through the briefings during the flight.