Bootcamp is on and mood has switched from anticipation to survival. Packing clothes for work trips generally tends to be as challenging as picking 360 degrees proof skincare items that will keep face in check in the most unpredictable of conditions.
My personal history of workwear is roughly this:
Twenties:
The Security Personnel Uniform aka unsuccessful attempts at adult dressing by matching black trouser suits with white shirts. For some unknown reason the collar of the shirt always had to be turned outside so that it would rest on top of the collar of the jacket.
The occasional icing of this sartorial firecracker was a scarf assembled around my neck because I have no idea why, except possibly to unconsciously wanting to create an airline crew member moment.
The trousers slowly shifted to skirts and I dared more colourful ensembles when I realised I don't have to look like a middle aged man to work in politics.
Early thirties:
Diane Von Furstenberg. Not the person, but her wrap dresses. When work travel started to increase, dresses turned out to be the cleverest solution for having easy outfits at the ready (no morning panic attacks because there were no tops to match the bottom or the other way round) that do not take an awful lot of space in the luggage, and most importantly do not crease.
I would match the dresses with micronnets, which is French-speak for tightly knit fishnets (ie. only turn out to be fishnets at a closer inspection and thus are appropriate legwear for office).
Heels became higher as I discovered Dries van Noten footwear.
Late thirties:
Scandi Noir. After the colourful period of dresses, I went very black for a while. Constituting mainly of black sacks, my wardrobe resembled something people would probably call "capsule".
My job required me to be more and more on camera and having my photos taken. I realised a bit too late that while black sacks might be an interesting concept, they are at the same time extremely challenging and not particularly flattering. What I intended to come across as a cool and minimalistic Scandi look, generally turned out to give a "clinically anaemic albino in an ill-fitting linen sack" -vibe.
Except for the feet. Shoes were always fabulous, and rarely black. I do not own an apartment because I have spent all my monies on shoes.
Early forties:
The Upper East Side Psychiatrist -look, aka "I never thought I would dress like this" (cue: pleated skirts). Colour is back. Shapes are back. While I have to pay a tiny bit of attention to my top half of the outfit (no thin stripes/very small patterns that will go crazy on HD-screen), I can go to town with the bottom half. Enter voluminous skirts in bold colours and patterns paired with simple knits or blouses.
Attempted vibe: Gucci AW2018.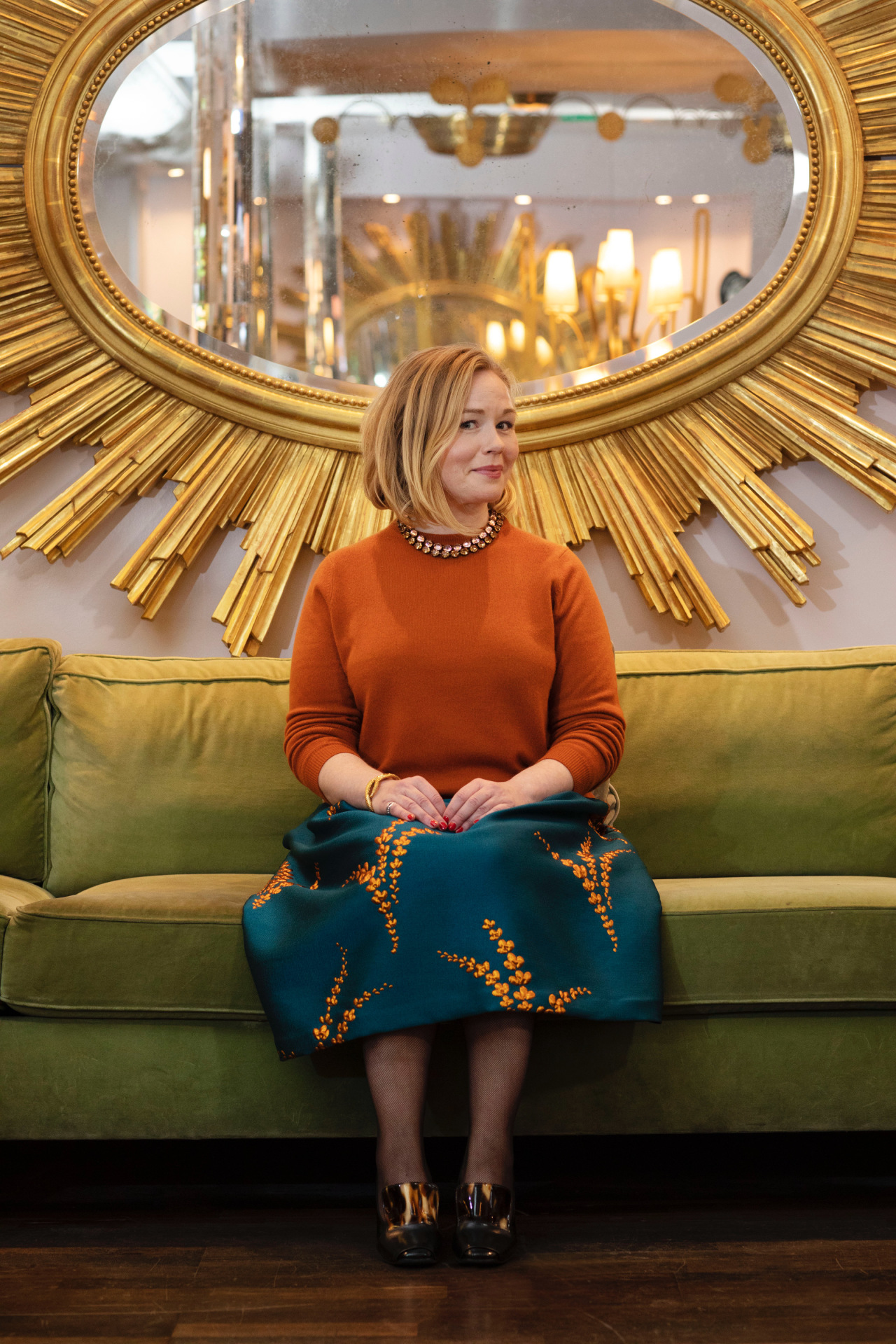 Most probable actual outcome: colour-blind librarian.​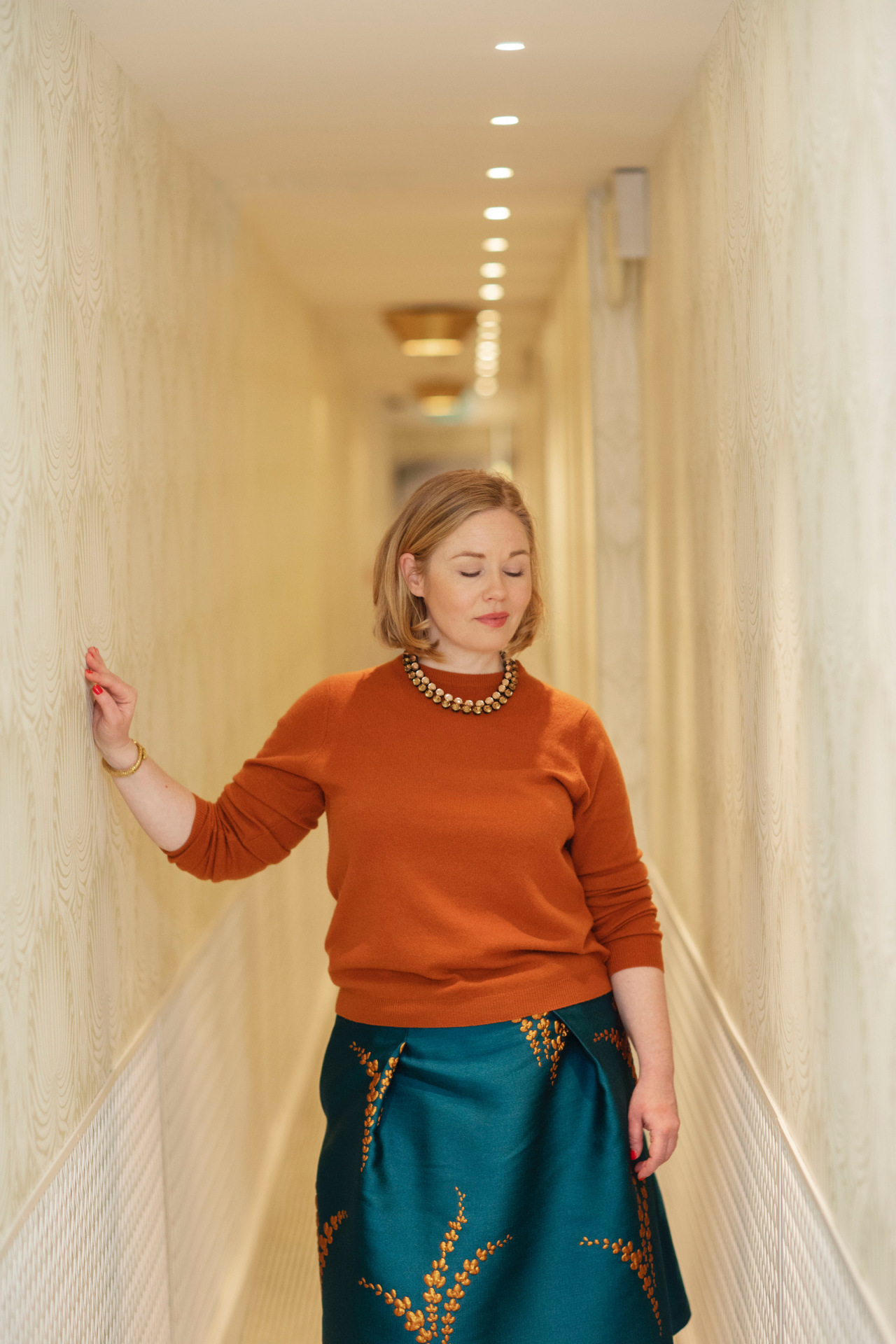 While I want my garments to look good on me, I rarely want to suffer from any discomfort while wearing them. Which brings me to the topic du jour: work travel outfit tip.
When talks drag on to the small hours and the casino-effect takes over your body and soul (Casino-effect: being locked up in a conference room/center for so long your body does not know whether it's day or night anymore, causing you to wolf down every bit of food that comes your way and to overdose on caffeinated beverages), there's only one way to go: pyjamas.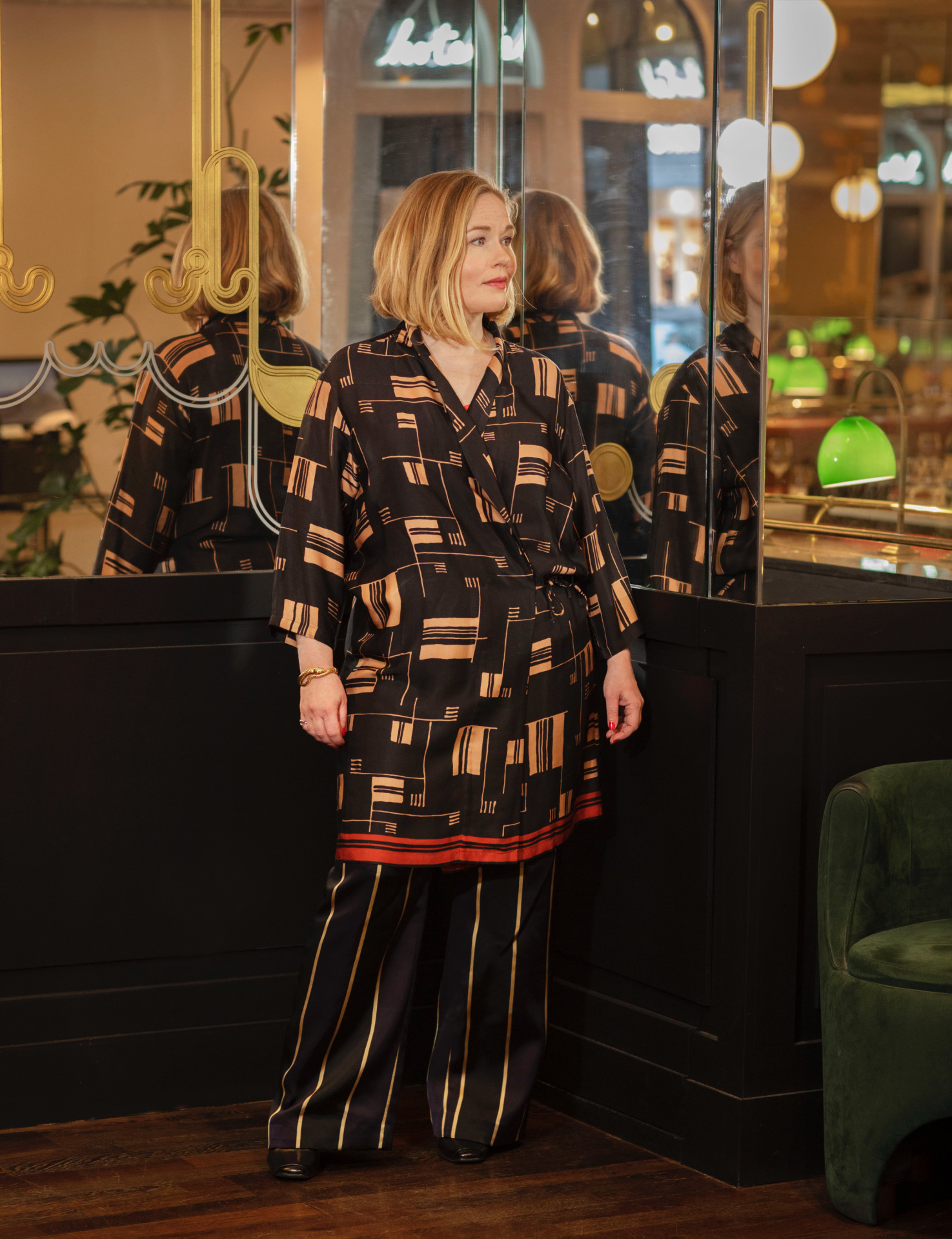 I have come to love this outfit for many reasons, and comfort is very high up there. If ever there was "from desk to dinner" – outfit, it must be this (for me). I am not wearing an actual pyjamas (obviously), but the look has a nice, relaxed vibe. The colours and the fabrics ensure it is neat enough for professional situations (I would not wear this in baby-blue flannel, if you know what I mean). It covers everything that needs to be covered, gives the freedom of movement to do the 2a.m. stretches, is cocktail-party proof (people can throw food and drinks on it and no-one can tell) and it is not a black suit – no-one's mistaken me for a security officer yet.
The pictures are taken by Heli Sorjonen.