I attempted a bit of Christmas shopping today. The shopping itself did not go very well, but it prompted lots of thoughts. A full disclaimer: I like christmassy things. Food, drink and sparkly baubles. Bring it on. Christmas lights – the more, the merrier. I also like buying things in general, and at Christmas in particular.
At the same time the hysterical consumerism makes me anxious. Also it's not like we only go insane before Christmas – we have all the Black Fridays and mid-season sales and such as well, but it's really only around Christmas when many things are encouraged to go absolutely overboard.
Much of this is a question of taste and tradition. Each to their own. I come from a country where dedicated Christmas jumpers never really were a thing until Mr Darcy sported one in the Bridget Jones movie and lured the metaphorical worms out of the can. Nowadays naff Christmas-themed items of clothing cannot be escaped anywhere in the West. I spotted the below sweater earlier in Brussels and had to take a snap and share with you.
First, what occasion could possibly be suitable for this horrendous thing? Second, if you manage to find a similar sweater specifically shaming ​male Christmas (over)eaters, kindly send me a photo with your contact details and I will send you a Diptyque Christmas candle in return. I can almost promise there is no such a thing. Because only women must be apologetic for the amount of calories they consume over holidays.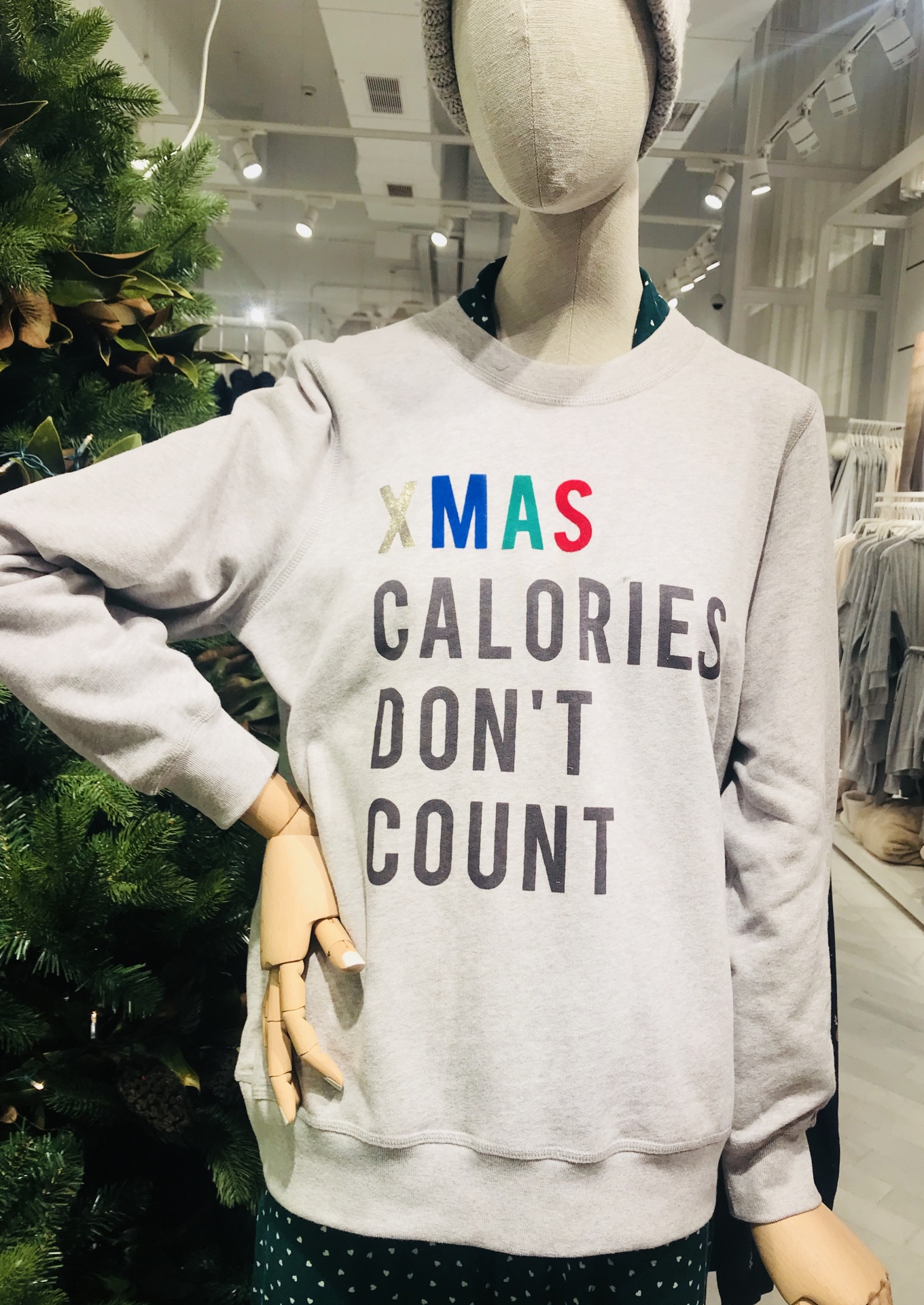 I had to buy hair elastics, because the Scottish weather of heavy showers and gale-force winds likes to take the piss out of blowdries and hairdos in general. As I was queuing with my elastics, I spotted a curious Christmas-special near the counter: a gift box of no less than 16 pairs of Christmas-themed earrings. Given that most of us only have two ears, one stuck to each side of the head, this seemed highly excessive.
Even if you celebrated the full "Twelve Days of Christmas" with a new pair each day, there'd still be leftovers. Even if you wanted to re-create the "Zoë Kravitz for Tiffany & Co." -vibe with multiple earrings per ear, you would have leftovers. Also, you would not look remotely like her. Hers are exquisite and extortionately expensive diamonds paired with her impossibly gorgeous head. You'd have 32 cheap miniature Santas dangling from your earlobes.
The gift-boxes of gazillions of earrings and single-use, low-quality and vile theme-clothing are precisely the things that cause stress, anxiety and end up forming mountains of shit we cannot deal with.
I very almost purchased a vintage T-shirt advertising Madonna's ​Blonde Ambition Tour (I could not bribe my parents into buying Madonna –​merch or tickets to her concert back in 1990). Then I realised I was the only person in the store who was already born in 1990 and decided to leave with my elastics.
While I have a personal aversion to special theme-jewelry and clothing, I do like to acknowledge the arrival of my favourite holiday somehow. I find nails to be a nice and subtle way to give a nod to red and sparkle. Here's a tip I learned from no-one else but Dita von Teese (not personally, obviously, but I read her interview somewhere and her nail-polish tip seemed to make an awful lot of sense):
If you want to have subtle glitter with you polish, paint it under the very final coat of your red (or other colour) polish. Glitter nail polish is an absolute bitch to remove, so make sure you apply a base coat first. Then, maybe one coat of read, then glitter, then red on top (good job the Christmas holidays last for a couple of days, as this layering of polish does take its sweet time).
The result is a very nice, subtle sparkle in a manner of 50s car paint-job. My favourite glitter-polish is theChanel Le Top Coat Lamé (not glitter but lamé because Chanel, darling), which is supposed to be a top coat, but because of its sizeable gold-flecks, I like to use under a regular polish.
Here you are. Rest of the nail-products in the picture are my favourites by Kure Bazaar (natural French nail polishes and accessories): their latest red in shade Sari and their fantastic Rose Cuticle Oil. Their base coat is also great (far left).
The Kure Bazaar nail polish remover is spendy compared to the standard drug store deals, but I cannot stress strongly enough how gentle (yet effective) and non-drying it is. Also it comes in a glass bottle which looks nice on the bathroom shelf.
That's your Christmas gift tip.
EDIT: If one must do glitter, one must do glitter properly, Christmas or not. I just saw pictures of Michelle Obama on her New York City book tour. Sequin thigh-high Balenciaga-boots. Google the pictures. Big love.