Remember the bit in the Sex And the City in which Carrie told Miranda that she stores knitwear in her oven? And how that was supposed to be hilariously outlandish?
Dear reader, herewith a rare view of my fridge: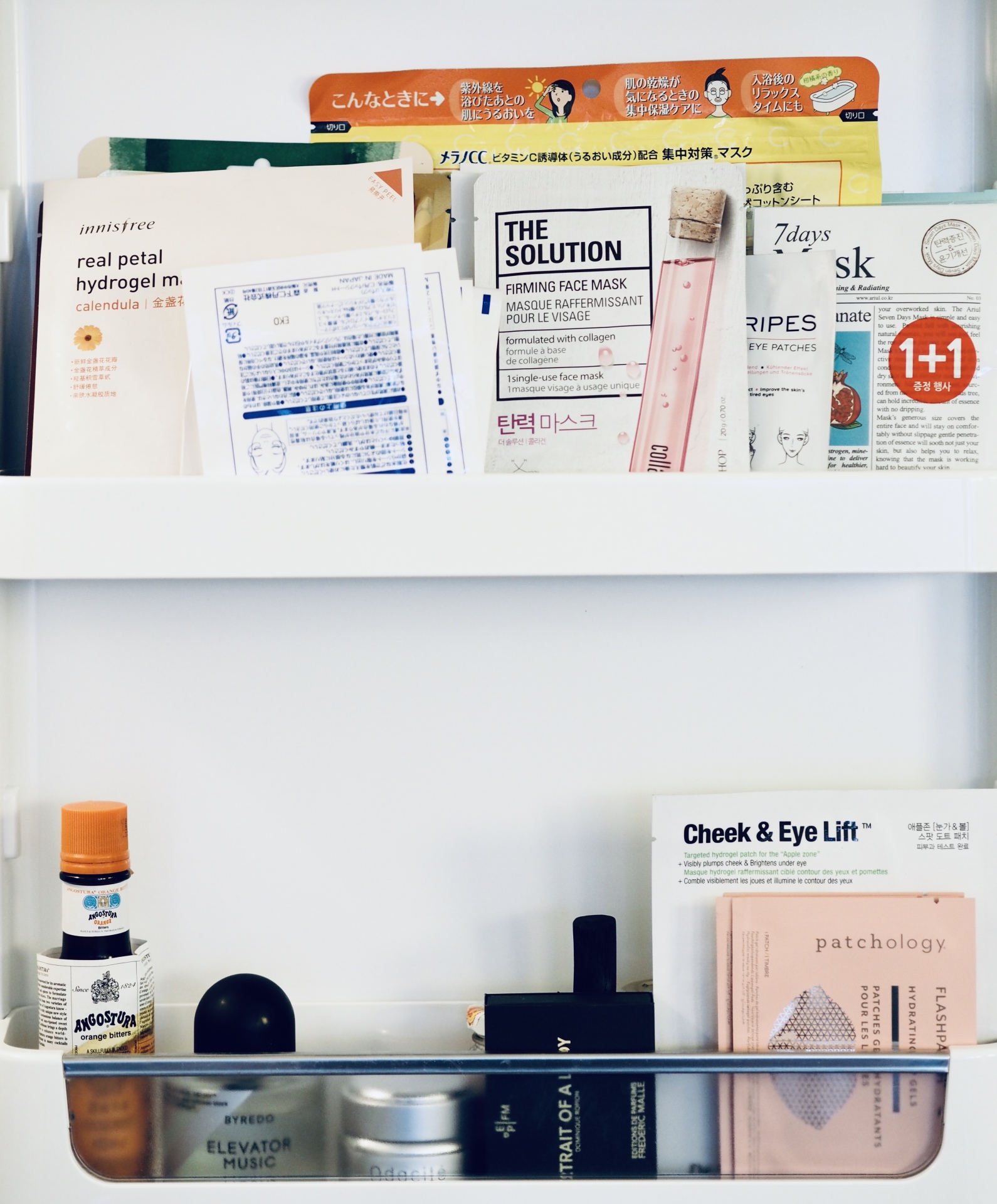 Those with excellent eyesight might spot an actual item of foodstuff there. Yes, that's Angostura on the far left.
This might seem excessive and bizarre, even. It very possibly is. However, as much as I enjoy trying on new products and usually do not hesitate spending big monies on them, I cannot stand waste and things going rancid ahead of time. This includes perfumes that start turning.
Therefore masks and perfumes that I do not use regularly are kept in the fridge. I also find eye-masks and under-eye patches to have much more firepower when they are cold when applied.
I do not hoard. I likely have amassed a collection of skincare that exceeds what's considered the bare minimumfor any individual, but I still don't like stuff piling up uncontrollably. To avoid this from happening, especially as regards makeup, transparency is the operational word (it's also a great principle for running states, international organisations and media operations). I store things in transparent containers so that I can see what I have. Unfortunately even this has not prevented me from purchasing several vaguely lavender eyeshadows in the last 6 months.
I get most of my containers at Muji. They do good quality boxes and travel packages, which brings me to the next sub-topic: if you travel regularly, be prepared at all times. I have written extensively about work traveland its various perils. Unless you have a glam-squad or a herd of ladies in waiting, you likely have a job, a life and do your own packing. You want to focus on your meetings, presentations and after dinner G&T's, not panicking whether people will notice the absence of your deodorant because you forgot to pack it in the mad rush before scooting to the airport to catch the red-eye.
Just because you're travelling for work does not mean you suddenly must start relying on toiletries the hotel might (or might not) provide. If you want to do that, knock yourself out. My experience of work travel is that it ain't no picnic, though, and any stress that can be minimised in advance, must be done. I suggest you pack all you need. I'm willing to make an exception with shower-gel, though (hotel shower-gel is perfectly passable).
You will likely only be able to take carry-on, so take this into account. Get a bunch of containers for shampoo and conditioner, body cream, lotions, moisturisers, facial sprays, masks, scrubs, everything. Buy little pill-boxes for vitamins and meds. There's no time, ever, in this universe for you to amass all the required bottles the night before your trip. Have them ready.
This is not being crazy. This is ensuring your face does not suddenly flare up, or hair do something inexplicable. These are not the biggest worries in this world, I do recognise that. However they can easily take the edge off your work performance. We've all been there – a ladder in tights. Emergency tampons ​nowhere to be had. Stressful interview or presentation, and no powder within the blast radius to blot away a shiny forehead. Life happens also when we are traveling for work.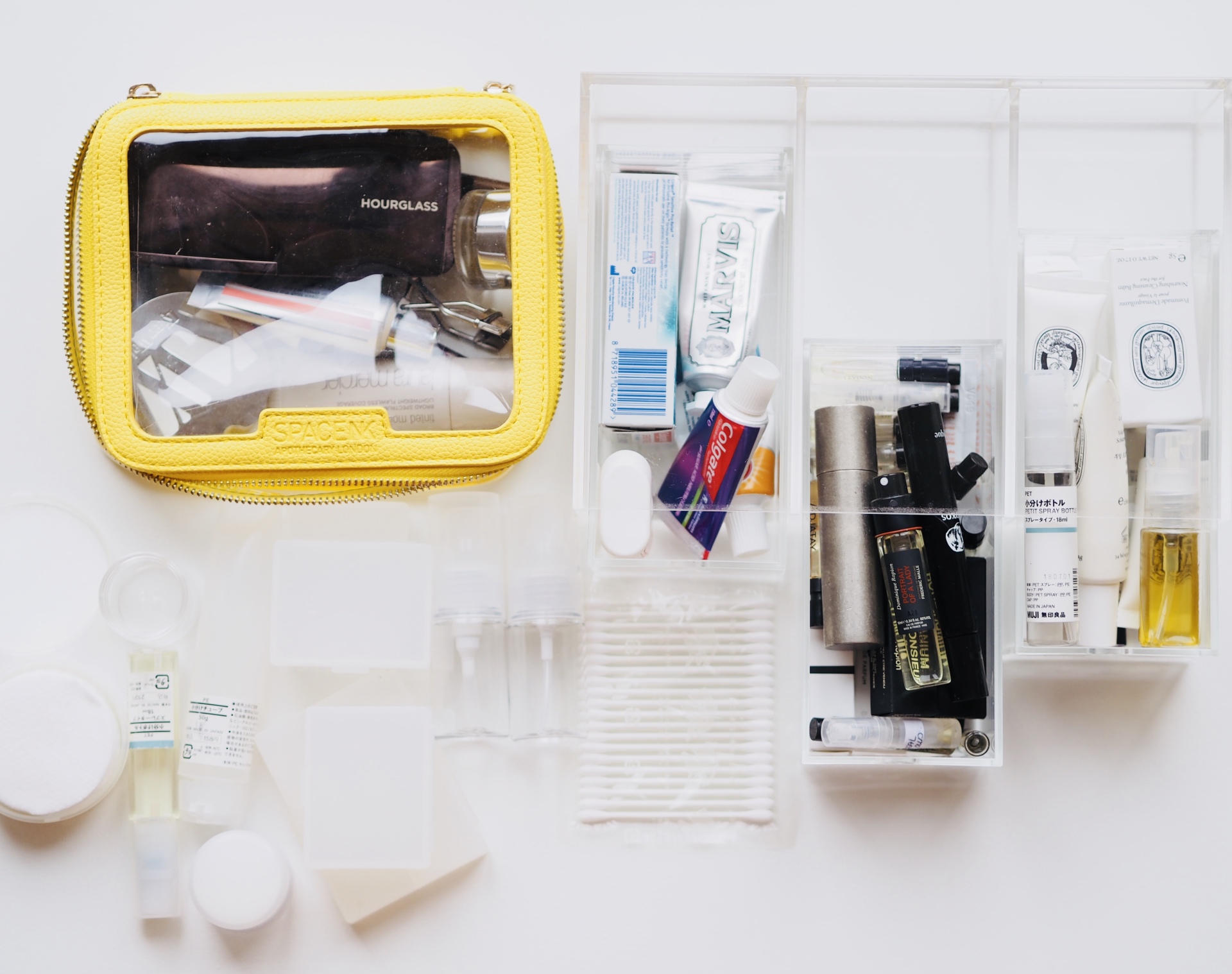 As you can see, I also keep my makeup in a see-through bag. The one above is airtravel-approved, and frankly also makes life easier when items need to be fished out in sub-optimally lit circumstances, such as from handbags.
I keep skincare samples that come in decent sizes (such as the Diptyque-samples on the right). They can be used for overnight deals or office (although in all honesty, I've never had any use for them at the office). You are not alone if you've ever found yourself crying frustrated tears in a hotel bathroom, trying to jinx open a tiny, slippery shampoo sample-bag – I don't even know what material they use for this purpose other than it's evil. EVIL. Avoid. You are worthy of a cosmetics product that comes in a container that does not require you to attack it with your teeth.
Some sample body washes and facial cleansers are ideal for cleansing makeup brushes (I'm yet to buy a designated, special cleanser for this purpose. Also I almost never wash them, which is disgusting.)
So here we are. This is where I store some of my stuff. At regular intervals I also keep food in my fridge, so no need to worry.