I haven't watched Marie Kondo on Netflix, but have not been able to avoid it entirely. I once started reading her book and had first serious doubts when she suggested one should fold one's t-shirts so that they stand in the closet unaided. I gave up when she recommended one not to keep more than 30 books in one's home.
Last week I read the brilliant New York Times article about hoarding cosmetics samples and very much recognised myself. The best part of visiting the US was of course seeing my friend (I'm adding this here in case she's reading so as not to offend) but really, getting the bulging bags of samples at cosmetics shops was a revelation and made me feel almost as if the trip had been free given all the free merch I was getting. And I didn't have to lift a finger – the shop-people handed out all that stuff proactively!!! I suddenly had gazillion miniature shower creams plus the products I actually wanted to buy in the first place! Win-win!
Getting free samples in Europe can be like pulling teeth. I do realise the business rationale of shops having to sell stuff as opposed to handing it out for free, but really. Really. It's not once or twice I've asked for a sample of something I had been trying out, just to be first met by an outraged stare, followed by a theatrically slow shuffle to the samples-drawer to fish out the said sample, all accompanied by huffing and puffing so as to demonstrate what a draconian effort it was, and how grateful I should be of the privilege of being able to part the shop with a 1,5ml sample of whatever the manufacturer sent the shops to hand out to interested customers in the first place.
The above considered, it is a bit of a miracle I have amassed such a stash of samples whose origin I'm absolutely unsure of. Also I have never used any of them, and probably never will. If there should be a nuclear winter in the cards, I am delighted to share that I have Kiehl's maddeningly small (thus useless) samples to cover the needs of a good part of Northern Europe.
However, there's more. There's a whole ecosystem of beauty gadgets in my bathroom waiting for the day to arrive. Looking at these things I kind of wish it never will.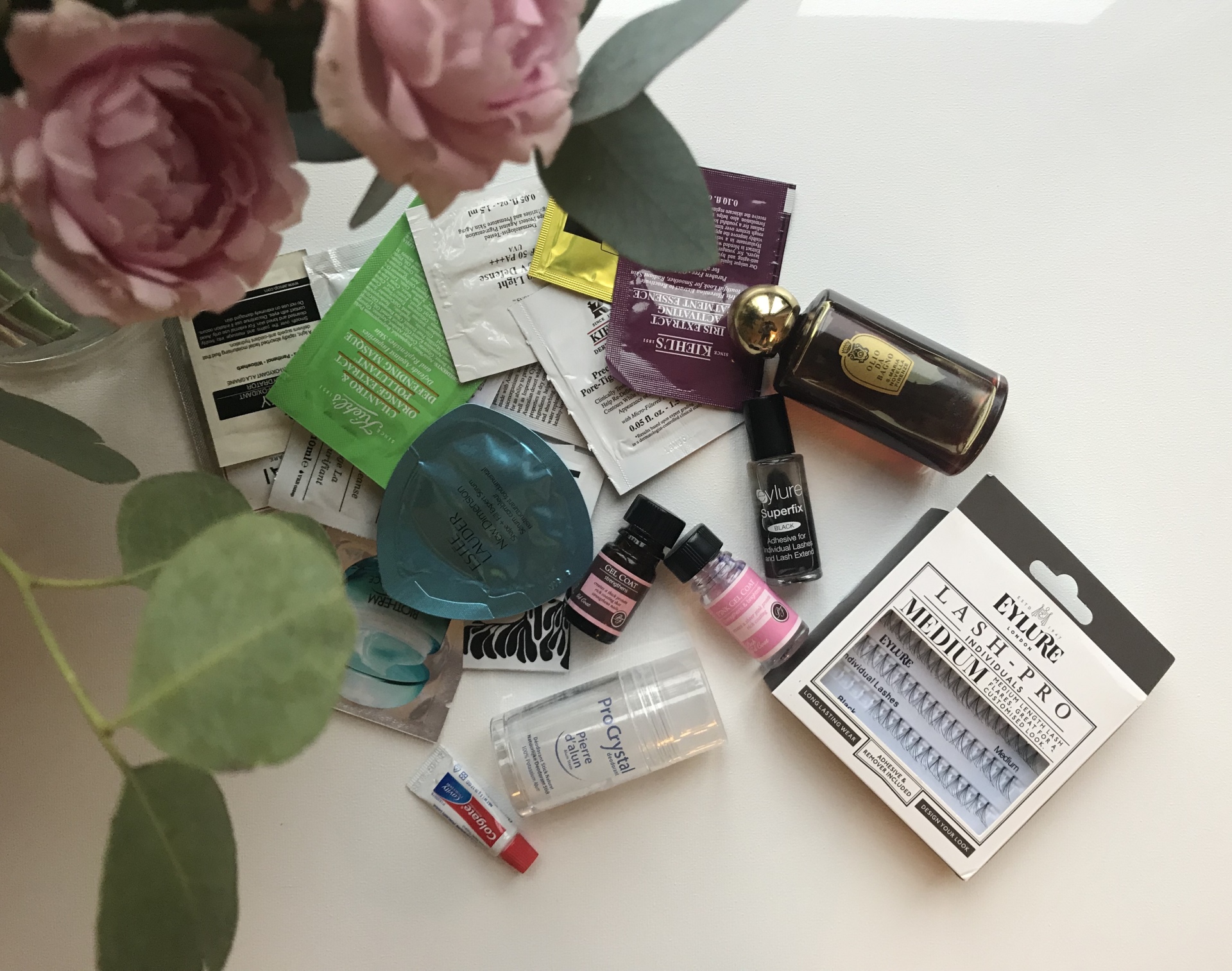 Jade roller.
I know it's supposed to be fabulous. It makes a lot of sense: we know that massage has the longest-lasting effects on face. Thus daily whizzing away with a cooled roller is common sense.
I have never used mine.
Knobbly cellulite-banishing tool.
I read most fashion- and beauty magazines available on this planet, so I've done my research. I know the beauty editors get paid to go to fantastical Austrian resorts where they are fed dust and made walk daily in a freezing wading pool to banish cellulite and then share their (positive) observations with the readership. They have access to all the latest state of the art gizmos and creams to rid human kind of orange peel skin. So they have done their research, too.
Therefore, if they unanimously repeat year after year that dry brushing is the most effective, and cheapest, way to improve the texture of one's legs, why am I not buying it? Instead, why have I bought the weirdest looking assemblage of wood and rubber that I'm supposed to massage myself with?
Crystal Deodorant.
Yes. But no.
Two-Phase Nail Strengthener with a Pink Tint
I bought this set of two nail products in New York, because in New York everyone has fabulous nails all the time. Nowhere in the packaging did it say that the pink tint looks subtle indoors, but turns neon as soon as it catches the merest glimpse of daylight. Also, I didn't experience any strengthening effects.
Individual Fake Lashes with Black Glue
This, also, seemed like a brilliant idea to add oomph to my gaze, as they say in adverts. Well. While I'm an sich a dab handat applying the lashes, they do have the tendency to take a life of their own once in place. At best the look is passable from a certain distance. At worst, the tiny tufts each stick to different directions, creating an interesting, if entirely unwanted, spider's web -effect.
The there's the glue. It glues everything. It takes literally nanoseconds to glue together your top- and bottom lashes and any unfortunate flesh that gets caught in the middle.
Finally, the reason why I gave up this nonsense was that it ruins every occasion. Your individual fake lashes become your entire life the second you leave home. Are they still where they are supposed to be? ​Why was that person looking at me so weird – do I have bits of eyelashes on my face? Is it possible that the glue STILL stings so bad?
No.
Random, Small Vial of Expensive Bath Oil That Does Not Smell All That Good
I am not a bath person. If I ever take baths, it's with salts (Epsom) and an extremely carefully curated oil. A rank-smelling, tiny container of Italian bath oil that cost a fortune and has been sitting on my bathroom shelf for years just because, does not spark joy.