Twas a tough year, January, but what seemed impossible, did finally happen, and we're now firmly into February. February is good. It marks the lunar New Year and the Chinese New Year. I do not have strong feelings for either, but January always is bit of a test case, so I've taken to start my actual New Year in February.
As we embark on a new year, some with Marie Kondo, some with dry January and me, with hibernating for one more month before February, one starts craving for freshness. Satin-y conference pyjamas in rich jewel-tones no longer seem right for the season. Enter cotton poplin dresses.
Dresses in general are brilliant workwear. No hassle with buying coordinated tops and bottoms. No stress in finding the said items in the rush of the morning. A guaranteed pulled-together look. Sceptics say that one needs to have lots of dresses in circulation as opposed to having a couple of tops and bottoms to mix and match. Yes and no. I have observed male colleagues' packing habits for work trips. They often make do with just one suit, with a daily change of shirt, for trips as long as five days. It is nonsense to think that women should change their entire garment daily.
Cotton poplin dresses are very easy, the only downside being that they tend to crease more than silk jersey and wool. Generally this is not the end of the world, though. The stripy dress below looks OK even when it's not freshly ironed (also because it features drawstrings at the waist). I wear this dress a lot, and while it is not necessarily the most flattering shape ever, it has everything a proper dress needs to have: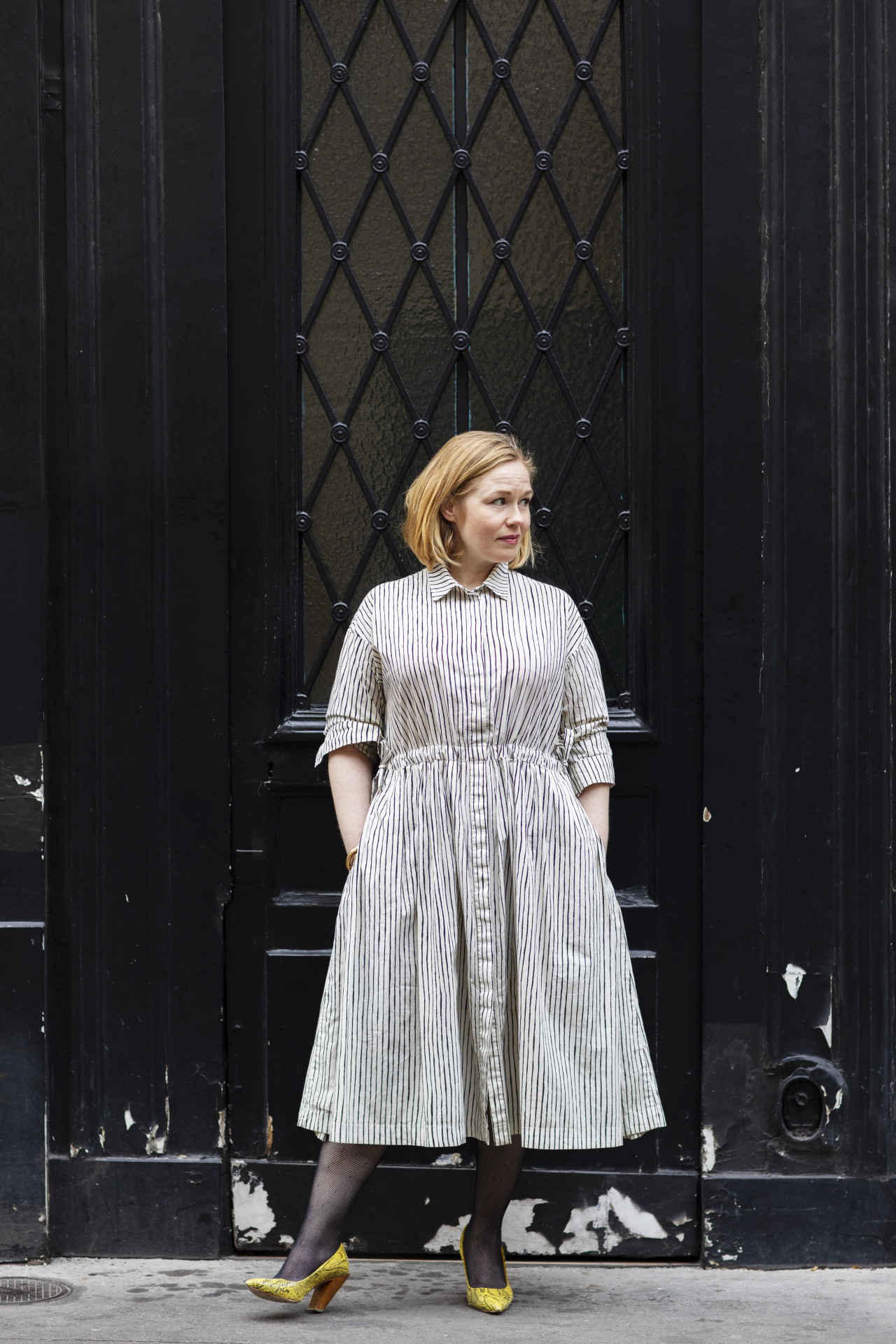 Photo: Heli Sorjonen

1. Length
I have a selection of Diane von Furstenberg wraps that hit the knee in my closet – the length du jour in the early 2010s. It inevitably looks too short and dated now. I'm keeping the dresses because what goes around will surely come around, but the above mid-calf length is something I've come to really like. It's flattering, and I can wear the dress both with and without tights.
2. Pattern
The pattern and colours are very subtle and classic, but I hesitated for a long time before going for something so white. The good thing is that the dress is easy to combine with almost everything. While the pattern might be a bit meh, it also comes across quite timeless.
3. Shirt collar and proper cuffs
These both make the dress look dressy and office appropriate, but also add to the versatility. I rarely wear the sleeves down, office or not. Buttoned cuffs are important. It is maddening to see how often proper cuffs are replaced by simple seams in women's shirt dresses.
4. Pockets
Don't buy clothes that do not have pockets. Pocketless clothes are an anti-women conspiracy. Trousers, jackets, dresses and skirts must have pockets, otherwise they are totally pointless. Where else are we supposed to keep our hands? Our mobile phones, tissues, lip balms and coins? If there are no pockets, where are we to put the stones, if we were to walk into a river à la Virginia Woolf?
5. Material
Cotton poplin is a very carefree material. Washes easy, irons easy (though must be ironed) and has a nice 50s vibe to it. The white colour of this dress means that especially the collar gets easily smudged with makeup. This can be taken care of as a separate exercise without having to wash the whole dress every other day – I use natural stain removers and hand-wash/rinse only the collar-area regularly (you will want to do this quite regularly, because makeup is literally oil and it can leave permanent stains when left unattended).
The green/white striped dress in the cover picture (and the zoom below) is also cotton poplin and by the same brand Marimekko.