Admittedly I have moaned a lot about having to go to cocktail receptions and such on my blog. So much, probably, that you'd be forgiven for thinking that I loathe all kinds of parties. It is not such. To mark the beginning of the New Year and the end of hibernation, I went to celebrate the birthday of a friend behind Life in a Cold Climate yesterday and had a mighty good time.
Upon reaching a certain age, the definition of a party changes significantly. "Party" is no longer booze, crisps, loud music, dancing and people snogging in dark corners. No. As we grow older, the simplest act of sitting down to eat dinner becomes a "party". Admittedly much fun can be had at such events as well, but sometimes an old-skool party can be extremely invigorating. Too much of everything can be good in moderation.
While I'm often too knackered to drag my old bones to parties, I love reading about other people's party lifestyles – both the decadence and the destruction. I wrote about California party girls Joan Didion and Eve Babitz and their ultra-glamorous party lifestyles earlier on the blog. Didion was friends with Sharon Tate, one of the Manson Family's victims, and she wrote about the murders in her book The White Album. She also hung out with Jim Morrison and others from the Doors.
We are told about post-gig brandies to Janis Joplin chez Didion, two days before Joplin fatally OD'd. Didion and Babitz are very candid about drugs and alcohol (once you read the books you'll understand why – there was little else going those days). Didion's husband (the late John Gregory Dunne, also a writer) describes one of their dinner parties, thrown in the honour of Tom Wolfe's latest book: "We invited one hundred people. After the first 250 showed up, we stopped counting. It was a fucking zoo."
Didion usually offered to do the cooking, and Babitz describes her, alternating between "Dexies and gin" as "She was drunk and on drugs – it was an incredible performance. How come she held it together so much better than the rest of us?".
I just finished Babitz' recently rediscovered book "Sex & Rage – Advice to Young Ladies Eager for a Good Time", which is a semi-autobiographical take on Babitz' own life surrounded by beautiful people, drugs, drink and men, and set in Los Angeles in the 70s. I like Babitz' conversational style of writing, and it works especially on something like this – which in short is a description of a never-ending party, which to a reader is addictive stuff, because it is dangerous and alluring in equal measure. "Slow Days, Fast Company" is a similar take on sun-baked, cocaine-laced Chateau Marmont antics.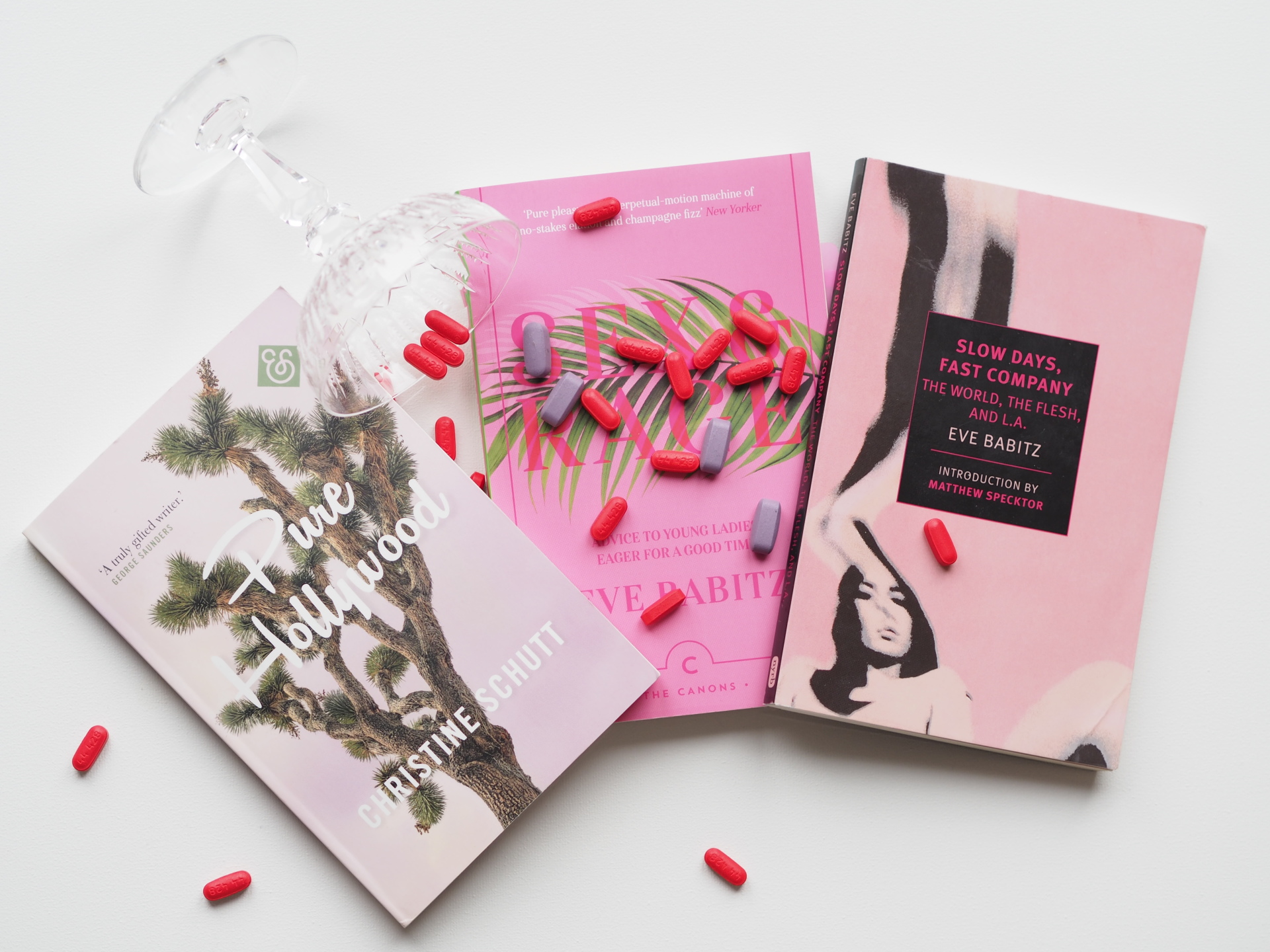 "Pure Hollywood" by Christine Schutt is a tidy collection of short stories that reveal the dark interiors of the shiny Cali-exterior. Schutt has a masterful way of describing complete disconnection, longing and human drama in general. Less glamorous than the name-droppery of Didion and Babitz, but worth reading only for her writing style.
I enjoy hard-core party-literature also to stop me from self-flagellating whenever I have over-indulged. Hangover demons might make the previous night's off-key karaoke performance of Sia's Chandelier seem larger than life, but really, it is nothing, nothing, in the larger scheme of things. If you don't believe me, walk a mile in Marianne Faithfull's shoes. Her "Memories, Dreams and Reflections" will put things in perspective.
A few remarks about the photo:
– It does no justice to the gorgeous dress of the Birthday-Girl, but follow her on instagram @lifeinacoldclimate for proper pictures.
– I am really that short. It came as a surprise to me as well.
– Also I'm really that pale.
– Nobody died.