I had a few events to appear at on Women's Day, which gave me an excuse to want a new lipstick. I thought I would do this fantastic red lip -look for the day, and came to the conclusion that none of the perfectly good red lipsticks already in my stash would do this time. I made the elementary, cardinal mistake of buying makeup online, based on promotional pictures in a glossy magazine.
Vanessa Traina collaboration with Rodin was the more sensible choice. It was too pretty. The tube was too gorgeous. Artsy poppies on clear plexiglass! Tomato-red ​olio lusso luxury lipstick! So high I was on the prettiness of the poppies that I ignored the fact, that my experience from Rodin lipstick tubes was not exactly good. They look nifty, but bloody open in the handbag the second you leave them unattended. The lipsticks themselves are good, though.
The colour Dahlia looks really nice in the tube, but merely leaves a peachy gloss on the lips. I don't know why I thought anything peachy would look good on me, but I now have an pricey luxury lipstick to remind me that I did entertain such possibility, while high on pretty things at Net a Porter.
I'm afraid there's no justification for the purchase that followed the peachy Rodin-deal. Because of course there could not be just one lipstick. It needed an extortionately expensive friend to make the air-travel to Brussels. I had seen a promo for luxury-label Chantecaille's latest line, inspired by the Arctic. Their ​Lip Cristals, together with everything else in the Arctic collection, are limited edition. I have come to notice that I will buy anything that is limited edition, so the Pavlovian reaction was to add one Lip Cristal in Citrine in my panier.
It is the most beautiful lipstick I have ever owned. The tube is metal, has a picture of a polar bear on it and a magnetic mechanism that makes the lid close with an extremely satisfying, posh click. And that's what I will be mainly doing with this Lip Cristal, because there's no wearing it.
Believe me, I tried to wear the Citrine, which was supposed to look amazing with a smoky eye (that should have been my cue: I don't do smoky eye). I wanted to love the lipstick so bad, because it is astonishingly beautiful, as in the lipstick is kind of encased in this sparkly substance that makes me want to drop everything and stare at it (which I did for a while). Unfortunately, whichever way this product approaches my lips, I look like all of the 80s pasty, peachy lipglosses dropped frosty acid, had a party with my 80s glitter-sticker collection, and then exploded on my face.
I take comfort of the fact that "every sale of Lip Cristal will plant a tree in Kenya". What it has to do with polar bears, I have not had time to figure out yet.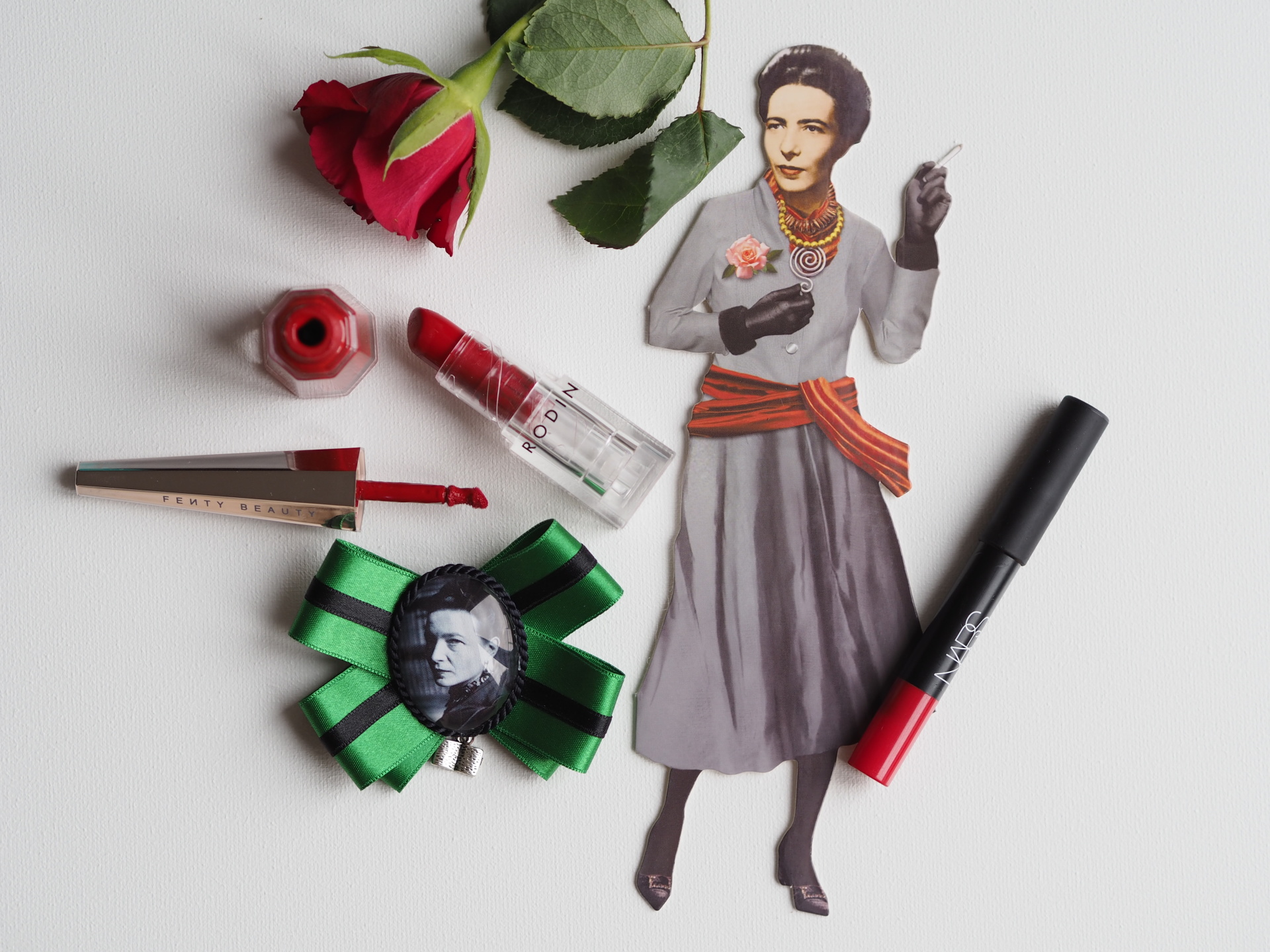 The D-day was approaching, and I was still determined to go for the red lip -lewk. I returned to the old faithfuls, above. An application of
1. Lip pencil ​Dragon Girl by NARS to colour in the lips, followed by
2. A layer of Uncensored by Fenty Beauty to really paint the mouth and finally
3. Top layer and touch-ups by ​Red Hedy by Rodin
will give you a flaming-red mouth for the evening. You do this at your own risk, though. Having a high-maintenance red mouth is high-maintenance. All evening. Including the moment canapés are being circulated and you are both drinking and talking to people, while minding that the salmon blini does not have contact with your lipstick and leave you looking like Heath Ledger's version of Joker in Batman: The Dark Knight.
To maximise lasting power, I recommend doing the groundwork properly, as in really crayoning in the colour, and then use lipsticks that are not too moisturising or glossy, or they run all over the place.
Then leave to the party and hope for the best. Also, it's only lipstick.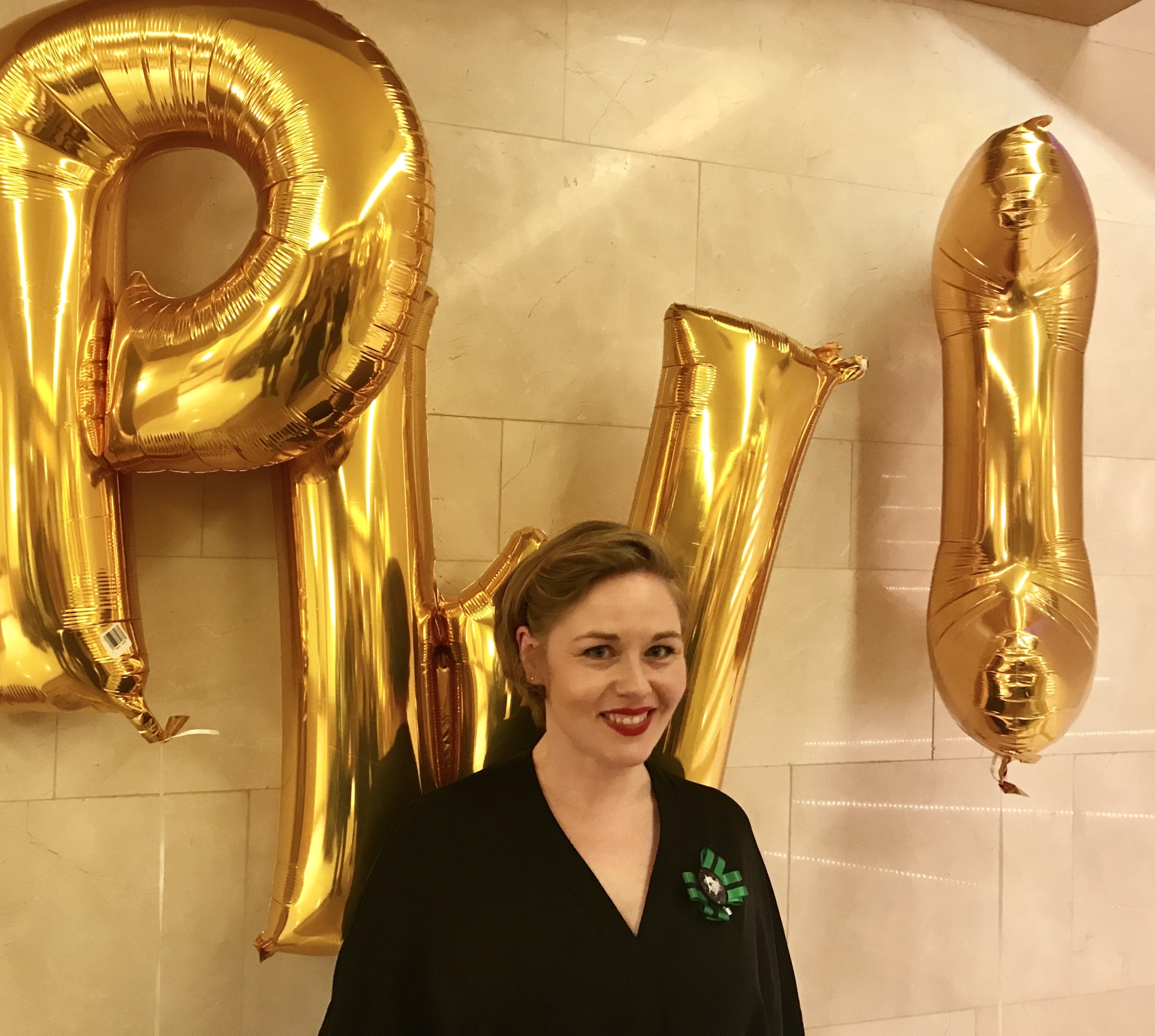 Above last night's look.