Every time before a long haul flight I have my epic plans ready to mask and hydrate while on board. I possess an impressive collection of travel-size mists and single-use masks, and for the last trip I actually went as far as decanted various ointments to use during the flight as well. However, the minute I sit down and buckle up, the condition of my skin is the last thing on my mind, because I am just so elated that mobile phones must be switched off. So far the closest to an in the air-skin routine has been a regular misting of face, with liberal application of lip balm. The full-on in-flight beauty routine is still waiting to happen.
Long-haul flights are a bitch for the skin, there's no way round it. Because I do not want to use the airplane toilets, it means I am also drinking as little as possible during the flight, which is of course really, very bad. I managed to avert a total crisis this time round by splashing my face generously with ​BYBI Mega Mist, which has a good amount of hyaluronic acid and eaves a nice tack on skin, which I normally might not like, but is just the thing for flying.
As soon as I landed, I rushed to get an emergency set so that I would not have to spend the holiday covering up for facial explosion. Herewith the kit I am using, and none of the following recommendations have any scientific (or other) credibility because I have only been testing some of the stuff for literally 24 hours. But also face seems to be in full collaboration despite the jet lag, dehydration, city grime and ever so slight change of a diet.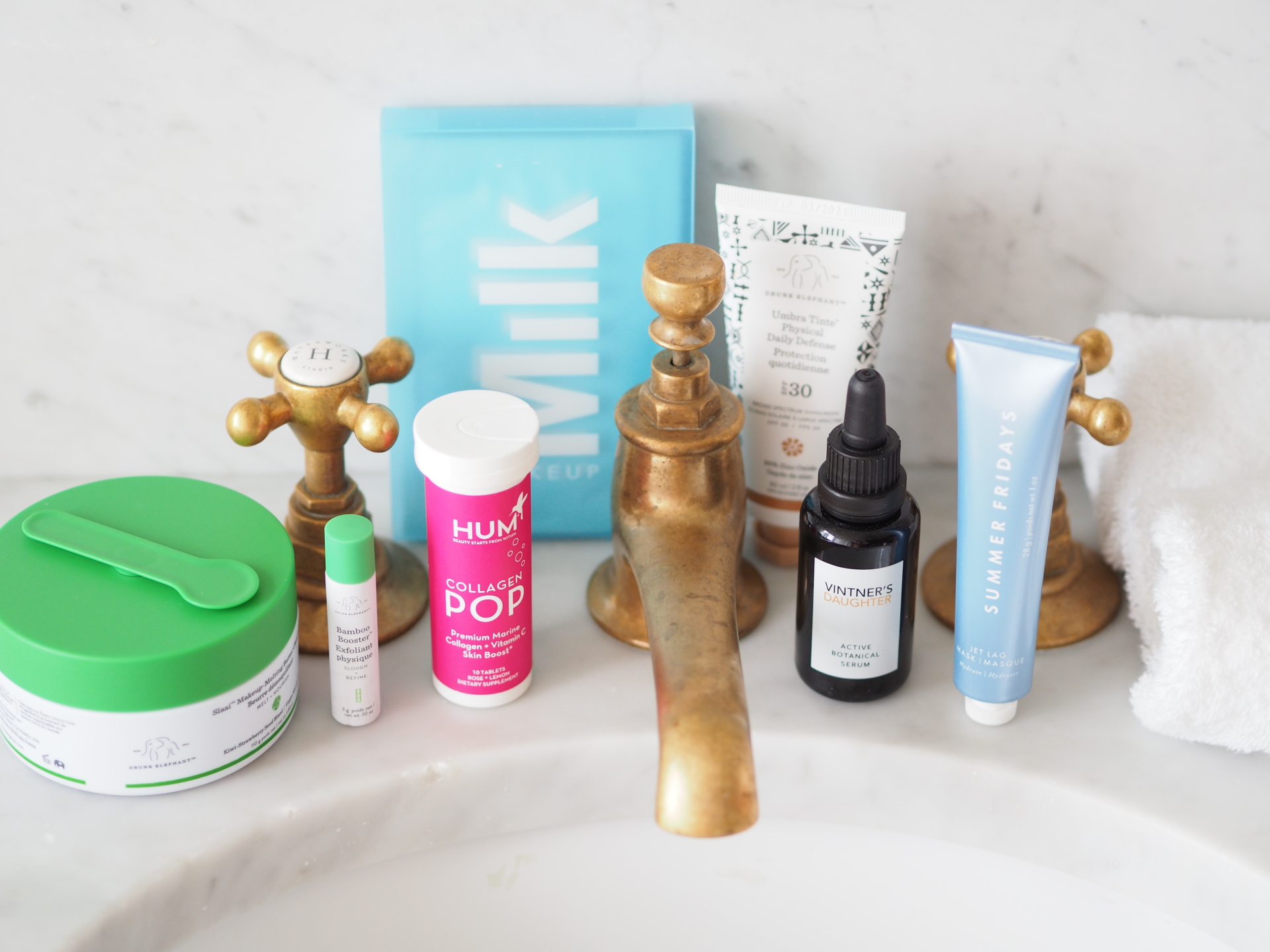 Drunk Elephant Slaai Makeup Melting Butter Cleaner
I like Drunk Elephant products, and was keen to try this new addition to the line. As one of my favourite cleansers has been ​Caroline Hirons for Pixi Double Cleanser, I have been kind of drawn to melting cleansers. So this one had to be tried. It does a very solid job of removing a ton of grime without stripping the skin. The cleanser comes with a bamboo booster powder which can be used to amp up action, but I managed quite well and it does seem a bit fiddly, the tiny little tube kind of hanging around.
I use this as the first cleanse and the follow with a (decanted for travel purposes) Votary Cleansing Oil, which I rather use for a massage than to cleanse face actually.
Summer Fridays Jet Lag Mask
Had to be purchased, obviously, because tailor-made for the situation. A very nice, creamy moisturising mask that can be slapped on and does not require to be rinsed off. Anything that reduces the need to apply water to my face seems like a good idea in these situations.
​Milk Makeup Cooling Water Eye Patches
An impulse-buy at the counter, but anything to settle down puffy-eye situations, I'm buying. The first experience was indeed cooling.
Vintner's Daughter Active Botanical Serum
I brought this from home as I don't want to part from it in any circumstances.
Drunk Elephant Umbra Tinte Physical Daily Defense SPF30
I tried DE's regular Daily Defense without any tint, and it left too much white residue on my face. Drunk Elephant is a natural product line, and the SPF in products is based on physical barrier, such as zinc. I used the cream on the thin skin of hands and feet in the summer, and it worked a treat. I like the tinted version a lot – the best thing is that it comes with a decent SPF, and also getting a bit of tint on face is a much appreciated bonus,
HUM Collagen Pop
I left without most of my regular vitamins because I knew I could not resist the American selection. Whether I need to take dissolvable collagen-tablets is one thing, and also I am not in a position to say whether these are actually doing anything to my skin, well, surely a dose of premium marine collagen can't hurt.
Here we are. Crisis, again, averted.