All you list-freaks, count your blessings. I have spent the last six months saving every single beauty- and cosmetics product that I have successfully managed to finish between January and July, just to be able to share this information with you. Initially I was kind of curious to find out how much stuff I really use, but of course the list below is not about that – many other products were used, below just the ones that were finished.
I had some mild irritation at one point for buying stuff without really using up the old ones before. This project was helpful both in getting an idea of how much cosmetics goes onto my skin/hair in six months, and also in pacing me to first use up a product before running to buy new things. This does not always work, of course, because I'm me, but let me just say that properly finishing a product comes with an enormous sense of gratification (Yes. This level of first world issues). Also I would like to add that of course I will discontinue to use any product if it's no good/irritates.
Some of the below products were purchased and in use before January 2019. Some products bought between January-June continue to be in use and were not photographed. Unless I have received something as a gift from a friend, I have bought everything myself.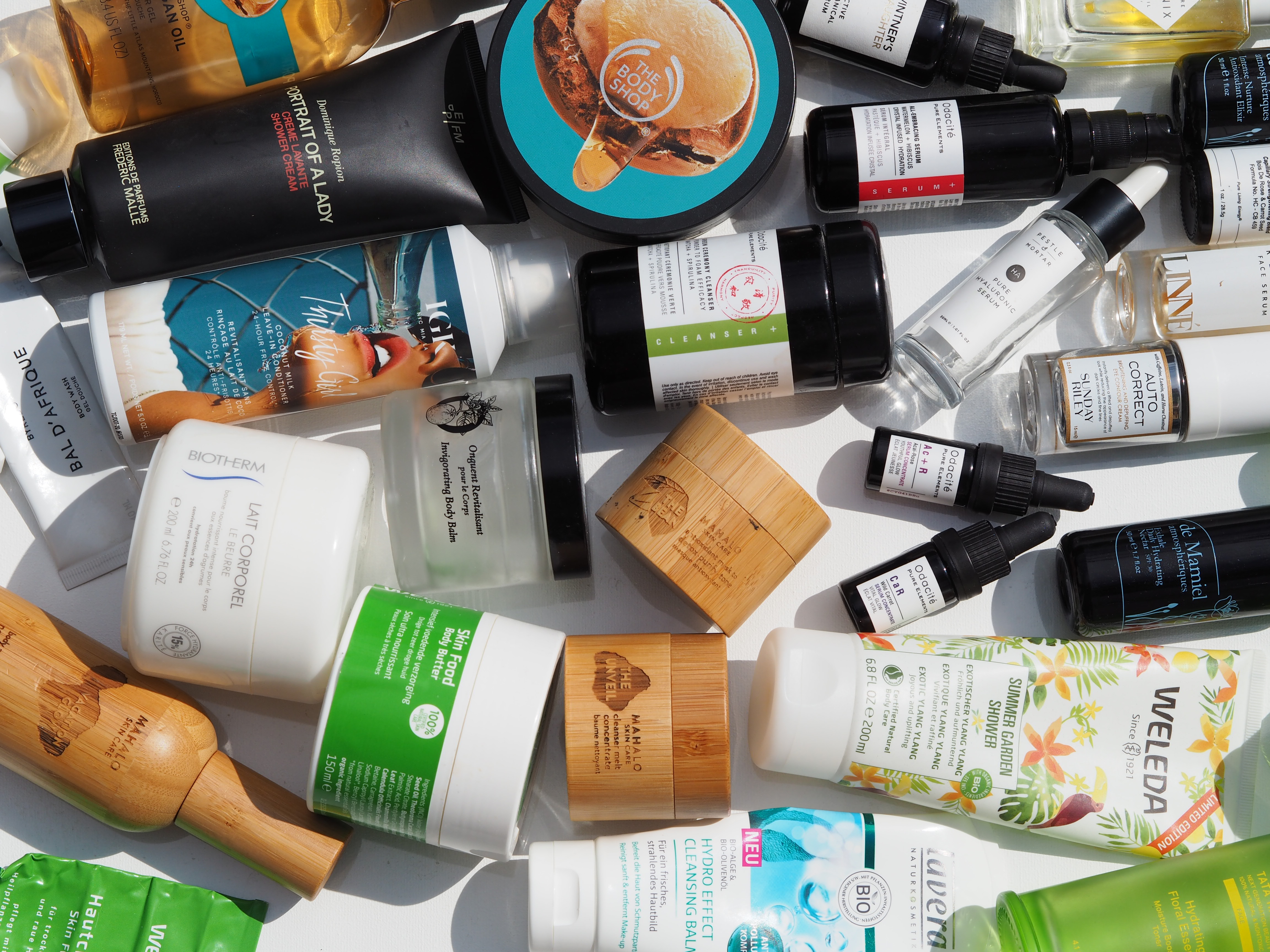 We shall start with body:
- Portrait of a Lady Shower Cream by Frédéric Malle
- Wild Argan Oil Shower Gel by the Body Shop
- Summer Garden Shower Gel by Weleda
- Bal d'Afrique Body Wash by Byredo (3 x 40ml tube)
- Invigorating Body Balm by Diptyque
​- Wild Argan Oil Body Butter by the Body Shop
- Vacation Glow Body and Hair Elixir by Mahalo
- Lait Corporel le Beurre body balm Biotherm
- Skin Food body butter by Weleda
- Skin Food Original by Weleda (2 x 75ml tube)
- Skin Food Light by Weleda 
-Blanche Had Cream by Byredo (2 x 30ml)
- Hair Oil by Ouai
- Thirsty Girl Coconut milk frizz control spray by IGK
Moving on to face:
CLEANSERS
- Hydro Effect Cleansing Balm by Lavera
- Purifying Cleanser by Tata Harper
- Black Mint Cleanser by Odacité
​- Green Ceremony Cleanser by Odacité
- Cleanser Melt by Mahalo
TONERS
- Hydrating Floral Essence by Tata Harper
​- Hydrating Accelerator by Josh Rosebrook
EYE CREAMS
- Auto Correct by Sunday Riley
SERUMS
- Intense Nurture Antioxidant Elixir by de Mamiel
- Pure Hyaluronic Serum by Pestle & Mortar
- Renew Face Serum by Linné
- All-Embracing Serum with Watermelon and Hibiscus by Odacité
- Rejuvenating Serum by Tata Harper
- Resurfacing Serum by Tata Harper
- Active Botanical Serum by Vintner's Daughter
FACIAL OILS
- Phoenix Facial Oil by Herbivore
FACIAL CREAMS
- Daily Hydrating Nectar with SPF30 by de Mamiel
UNCATEGORISED FACIAL OINTMENTS
​- Acai-Rose Serum Concentrate by Odacité
- Wild Carrot Serum Concentrate by Odacité
- Capillary Strengthening Blend by Tammy Fender 
MASKS AND PEELINGS
- Deep Hydration Masque by Odacité
​- The Bean Antioxidant Mask by Mahalo
​- The Petal Hydrating Mask by Mahalo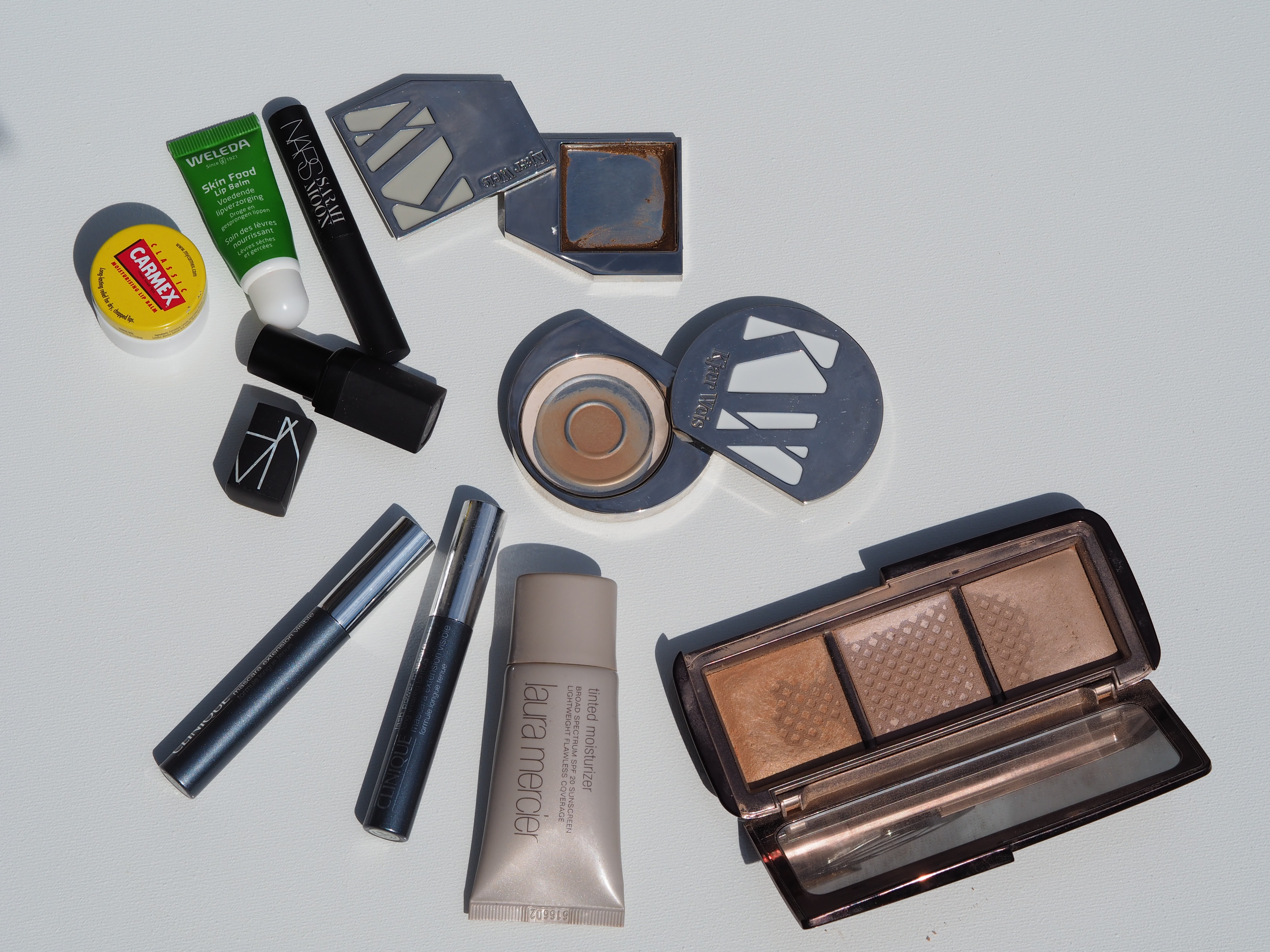 MAKEUP
-Tinted Moisturiser with SPF20 by Laura Mercier
- Pressed powder (translucent) by Kjaer Weis
- Cream Bronzer in "Dazzling" by Kjaer Weis
​- Lighting Palette in Ambient by Hourglass
- Eyeshadow primer by Fenty Beauty
- Lash-power mascara by Clinique (x 3)
- Lipstick in "Damage" by NARS
- Lipstick in "Rouge Indiscret" by NARS
- Lip balm by Carmex (x 2)
- Skin Food lip balm by Weleda
You ask yourself whether I wash my hair at all, given the absence of shampoos and conditioners. I have about seven million hair cleansing products in rotation, and none of them was actually empty by the 31 June. It is also not entirely excluded that I fail to finish all of them in this lifetime.
For the minutes I would also like to add that I do use deodorant despite its absence. Also I think no hairspray made it to the list, but I do know I used some.