I'm yet to spring-clean my apartment, yet seem to be terribly concerned about my perfume being of last season. After having been very loyal to Le Labo's Santal 33 for two years I decided to move on. (In all honesty I did have a short fling with Oud Immortel by Byredo last year. It was the result of me actually ending up stalking a woman at a Brussels bar, trying to figure out what perfume she was wearing. She was obviously on a date that evening so I could not barge in and enquire about her scent. What followed was a month-long search for something oud-y. Byredo's Oud Immortel was the closest I could find and am actually quite sure it was her perfume as well.)
Anyway. As Le Labo has recently started opening more shops in Europe, also Santal 33 is becoming a household thing. It used to be the quintessential New York-scent (it's their top seller in New York and every insta-worthy brunch-joint on Manhattan absolutely reeks of Santal 33), but has now become something that absolutely everybody wears (and I know this because I haul that stuff to friends and colleagues from travels). While it is hands down the most complemented perfume I've ever worn (I've been stopped on the streets by people enquiring what I'm wearing, as well as been asked about my perfume at bank, supermarket and restaurants), it might be becoming a bit boring now.
Both Santal 33 and Oud Immortel are unisex scents, so it was no surprise I was going for something masculine, strong but ​crispy (it's supposed to be spring, after all). I have been enchanted by Cire Trudon'soudy Revolution and actually had my mind set on it. However, once in the shop I took an unexpected turn to Frederic Malle's cabinet and started spritzing away.
I retuned home with not just unisex, but totally mega-masculine French Lover from the Frederic Mallecollection. Its creator Pierre Bourdon says he wanted to create the ultimate man's scent, so here we are. According to the leaflet in the packaging, my perfume "serves a confident virility". While that remains to be seen, the scent is a pleasant mixture of cedar wood/vetiver/patchouli with a touch of iris. And yes, I suppose you would call it a rather traditional men's scent.
While smelling the scents is essentially how we learn what we like and what's available, perfume business is also an interesting trade to read about. I'm no connoisseur of perfumes, but have a keen interest to read what goes on behind closed doors of a global business that rolls in massive sales mark-ups for nearly everything that's puts on the market. Who decides what smells good with what? Apparently it's in the hands, or noses, rather, of precious few people.
Should you have interest in reading how perfumes or eaux de toilettes are mass-produced (and indeed what separates them from washing detergents: very little, I can tell you that much) and what amount of work and research goes into creating a perfume, I recommend "​The Perfume Lover" by Denyse Beaulieu. The book is by no means new, but it is entertaining all the same and includes nice literary references.
In addition I would strongly recommend a blog Bois de Jasmin, which is written by editor, writer and professionally trained perfume specialist Victoria Frolova. I had the pleasure of having her give a beginners' course on smelling perfumes last year chez moi and have been an avid fan since. Go have a look!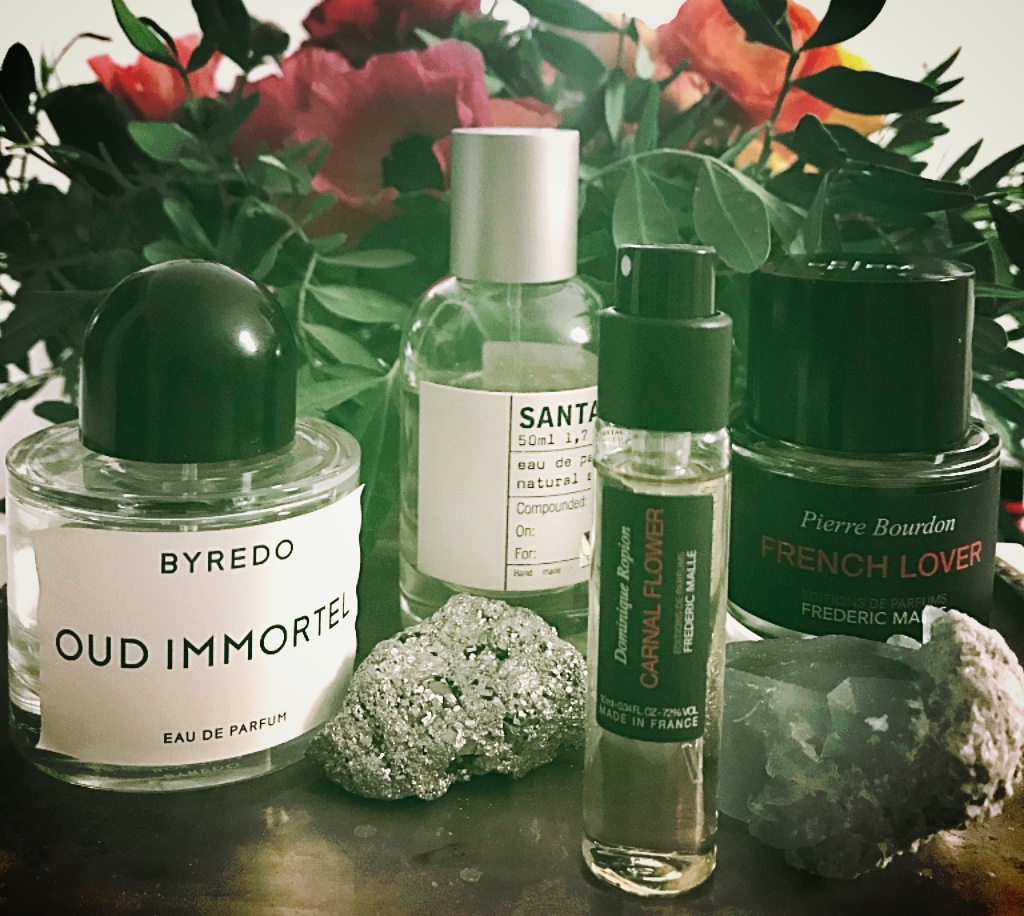 P.S. To counterbalance the above masculine selection, I am keeping a standby supply of Carnal Flower by Dominique Ropion for Frederic Malle. The scent was introduced to me by the inimitable tour de force behind Life In a Cold Climate when I was sporting Lys Mediterranée (also from Frederic Malle collection) in the office a few years ago. Carnal Flower is strictly speaking not your everyday light spritz for the office (if ever there was one) as the name kind of suggests. It's heavy of tuberose, but cut with camphor and eucalyptus to take off most of the sweetness, and regularly tops the "sexiest perfumes" -lists (which are cheesy per definition, but in any case it is one of the fiercest tuberose scents) and is very, very feminine.