I read and buy a lot of magazines. I also have the habit of keeping most of them once I've read them. To my continuous amazement there seems to be great many people who find this hoarding of old magazines odd. I only ever have second thoughts about keeping piles of magazines whenever I'm moving house (who knew paper is that heavy??!!!).
It has always been like this. For as long as I remember, as soon as I came to possess any small amount of cash, I would spend it on magazines. I started with the German Bravo when I was in primary school and knew absolutely no German whatsoever. This obviously can be rated extremely suspicious in many ways (not the fact that I didn't speak German when I was 10 years, but the buying of Bravo), but came in very handy for learning all the sexual vocabulary and the lyrics to the hip songs (mainly by Sandra and Modern Talking) in German (needless to say, this skill is yet to fully manifest its usefulness). Also Bravo was a weekly magazine, which was a definite bonus compared to the monthlies (one is very impatient when one is barely a teen).
I moved on to Seventeen and British girls' magazines such as Girl, and they were read with such a meticulous manner that today, 30 years later, there are pictures and articles I still have vividly in my head (especially the one giving interior tips that resulted in my "being inspired" and stencilling monstera-leaves on my bedspread, curtains and my desk. My parents stepped in when I was about to stencil the stuff on my walls as well).
So what do I spend my money on today, then?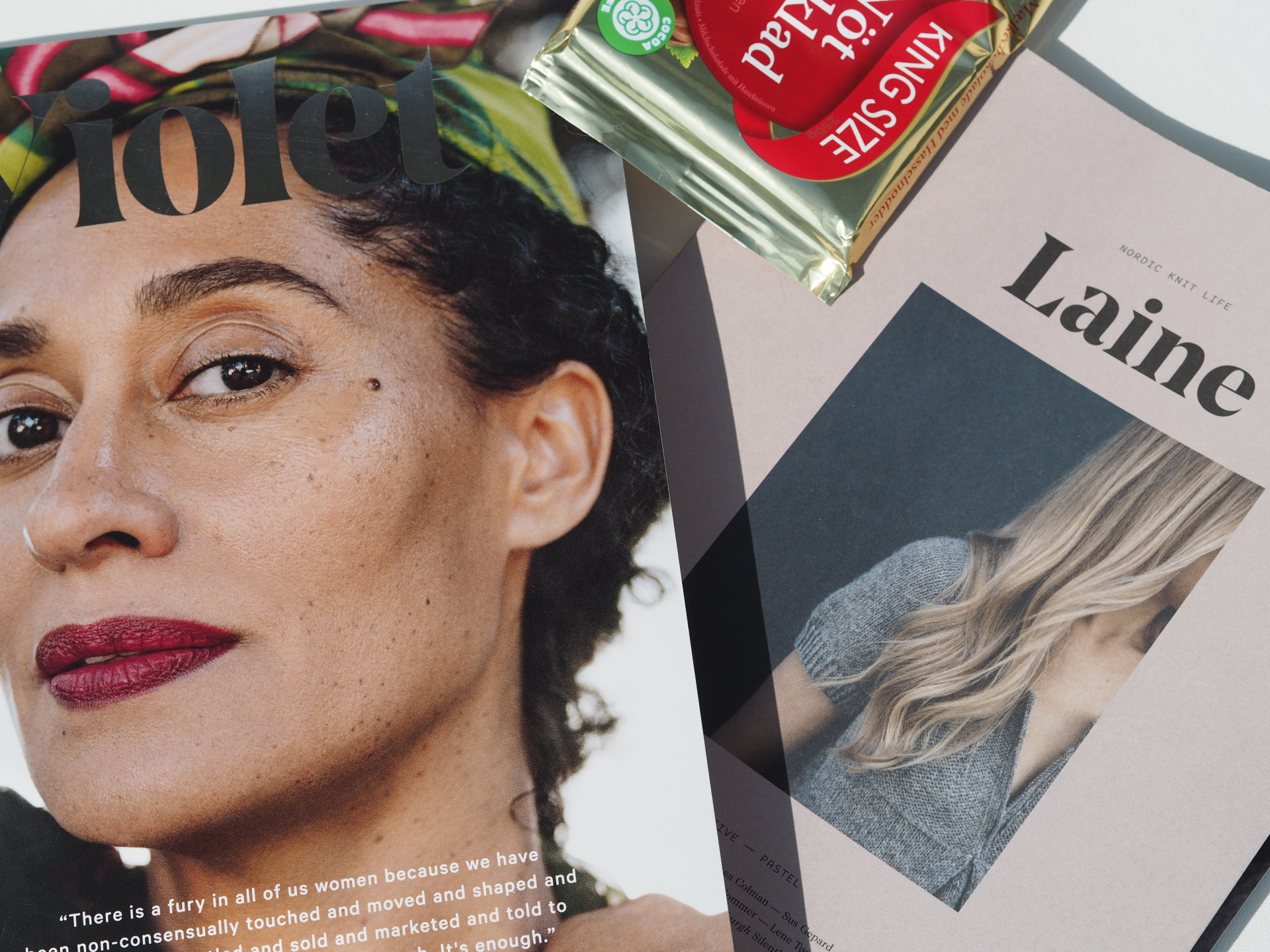 UK Vogue
This is an old love, which I fell for hot and heavy when I studied in Scotland. I read an obscene amount of other magazines at the time as well, but UK Vogue is the one that still needs to be read every month. I like it more than the US Vogue, which I only ever buy in case there's an interview that I must absolutely read, plus obviously the September issue, each year. I also get the French Vogue every now and then, mainly for the pictures which are fantastically outlandish.
Vanity Fair
I read mainly the international/European editions, but also sometimes the French VF, which I find to have interesting articles that are different from the English version, such as the recent cover story about Simone de Beauvoir. I recently subscribed to their international edition. The subscription also gives full access to their website which, I was delighted to find out, is updated 24/7 and contains lots of interesting stuff that never make it to the magazine.
The Gentlewoman
The only downside of this magazine is that it comes out so rarely. Fantastic interviews and cool pictures. Not super fashion-y, but I really appreciate the proper in-depth interviews.
The Porter by Net-a-Porter
Despite the Porter basically being a catalogue advertising stuff that can be bought on NAP -website, it is still a very readable magazine. This is primarily because there are lots of interviews and presentations of interesting women from different walks of life. I'm a sucker for "how to" -features, and the Porter offers plenty of step by step advise for achieving perfect hair/legs/neck/eyes/bottom/sleeping pattern/toned armpits, so that is definitely a bonus. What the Porter -fashion pictures lack in imagination, they make up in wearability.
Harper's Bazaar/Tatler
Sometimes one feels that one needs to have a look at Tatler's Black Book of London's most eligible bachelors. Alas, lately it has come to pass that most of the multi-hyphenated bachelors appear to be, in fact, very junior to be considered worthy of my personal Black Book update.
Violet
This is a recent discovery. It is a UK-magazine with an impressive editorial crew, including Sophie Carruthers, Luella Bartley, Amanda De Cadenet, Clémence Poésy and Mary Beard as a contributing writer for the latest issue. Feminism, fashion and interesting profiles. Highly recommended. Check out website at http://www.violet-book.com and follow on instagram at @thevioletbook
Laine
A Nordic magazine about knitting. It's actually a very beautifully done magazine in a raw, cool Nordic style. Includes knitting patterns and often some recipes to amp up the hygge in case knitting and burning scented candles wasn't already quite enough (overnight oats, French toast with stewed rhubarb, you get the drill). You probably have to be into knitting to fully appreciate this publication, but should you be, Laine is one of the nicest ones around.​
Milk Decoration
French property-porn.
Upstate Diary
While I'm probably not exactly their target audience (a painfully cool New York-based creative), Upstate Diary is inspirational reading with first-class contributors and classy topics (Joan Didion documentary, Joan Juliet Buck sharing back-stories from achingly chic parties from the bygone decades.) And lots and lots of super-cool people going about their cool lives.
Overall I read pretty much anything, but above is a list of non-work related magazines that I consult regularly. Add some Finnish and Swedish magazines on occasion and that's pretty much my monthly cycle of glossies.
On that note, make a note of the Vogue September issue, which is in stores in a couple of days. Marks the beginning of a new year (and an excuse to purchase new shoes).