Some of my friends have cautiously approached me lately with a careful question "so how much cosmetics did you buy in New York?" Dear reader, certain necessities had to be purchased. For one, I travelled practically with a passport and a toothbrush. Yes, that's without toothpaste.
Second, I needed some stuff. Some other stuff I strictly speaking did not need, and today I shall be introducing the unnecessary but fabulous part of my New York haul: the rock'n roll royalty of the latest cool luxury makeup.
Gucci Lipsticks
Italian Alessandro Michele has been Gucci's chief artistic director since 2015 and with him, the brand has remained very street, but with a cool vintage, geeky twist. I was seriously in love with their campaign photos last year (old ladies sporting OTT jewellery with matching attitude etc) and overall like the vibe.
Last month saw the launch of Gucci lipsticks, and as befits the label, they come in vintage-y packaging, in 58 different unisex shades and are much cool and hyped all over the place. Until they launch in European shop-floors (apart from Harrods obvs), the lipsticks are available at Net a Porter (together with Gucci's equally covetable fragrances, also yet to be launched in Europe).
The lipsticks come in three varieties: balm, sheer and opaque.
I have balm (mint green) and sheer (with the flowers) and have enough love in my heart to equally share between the two. Both are very lovely. If you consider buying online, keep in mind that both aforementioned sorts are quite sheer – the colour is much more intense in the tub than it is on lips. Good durability, and there's a ton of shades to choose from. I keep reading that the lipsticks have a lovely violet scent in them, but my baume does not really smell of anything.
Anyway. Love. Mostly for the nail-on-the-head cool packaging.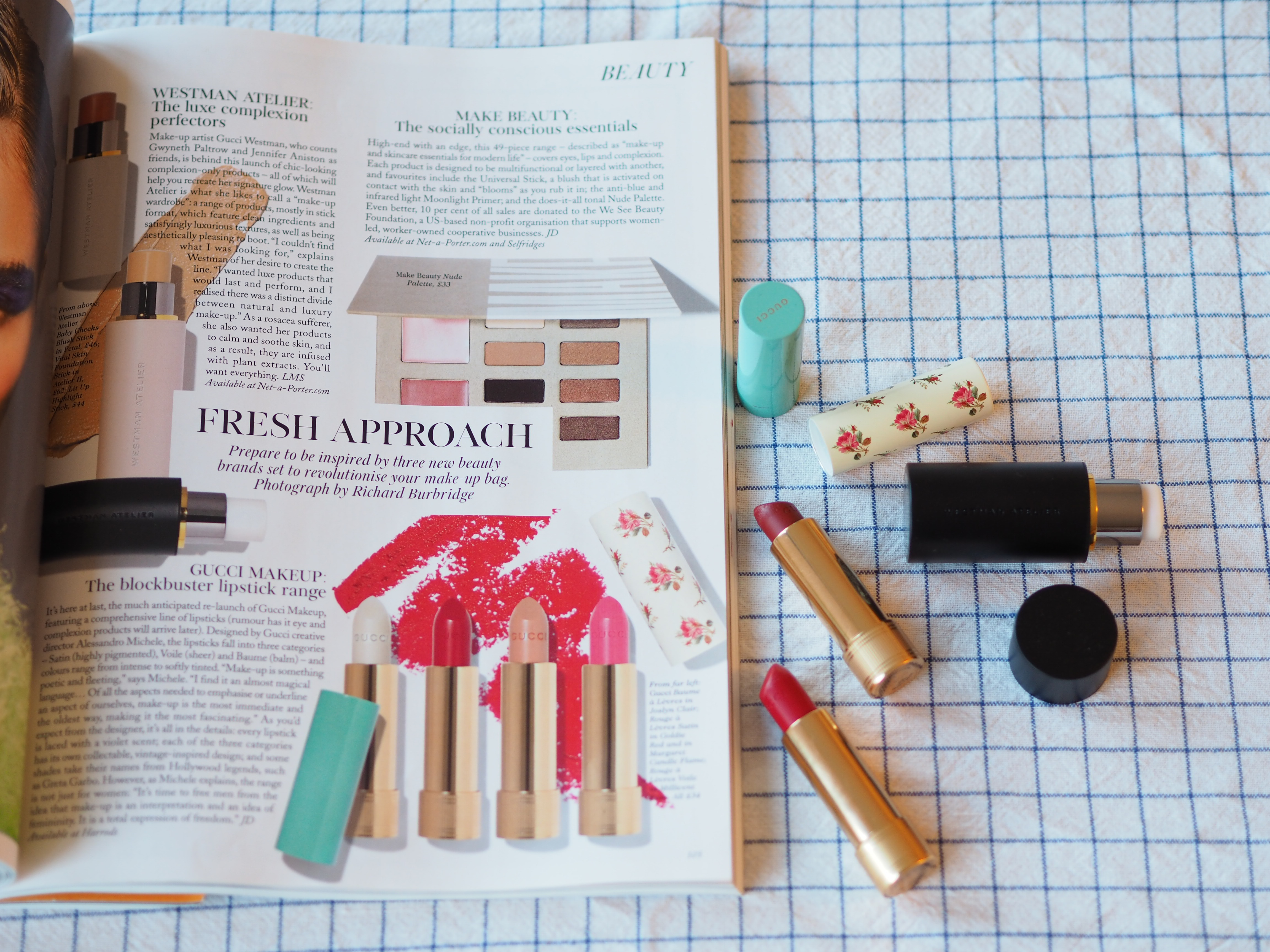 As can be seen above, I am riding the luxe-beauty wave big time:
Vogue UK is introducing exactly these products in their July issue.
This makes me feel insanely smug about myself.
Westman Atelier Highlight Stick
I had big plans to buy pretty much everything in their recently launched range, but alas the only shade that properly suited me (Pale Corpse) in their foundations had sold out in the entire Manhattan. This is how hot this shit is.
Gucci Westman is American/Swedish makeup artist with an impossibly glamorous life and client base (Jennifer Aniston, Gwyneth Paltrow, Julianne Moore, Cameron Diaz, add any A-list Hollywood celebrity), yet she somehow comes across strangely likeable. She's especially known for mastering the art of a fantastic, three dimensional skin makeup for her superstar clients. Both she and her brand are active on Instagram, and following the Westman Atelier launch there are lots of videos and interviews available online should you want to study her before committing to her products.
Westman wanted to go all natural, or green, with the product line first, but found out in the process that if she were to keep the luxurious feel and quality to her makeup, she'd have to compromise on the all natural front.
The result is a bridge between organic and hi-tech (no mineral oils, mercury compounds, formaldehyde donors, which is already quite an achievement on the foundation-front), and the foundations have been praised for their high quality by anyone whose opinion can be trusted. The Westman Atelier website is very informative about the products should you have an interest in INCIs.
Westman is a rosacea –sufferer, and the products are formulated not just to cover the red outbreaks, but to also soothe the skin.
I managed to get my hands on the Highlight Stick which admittedly only few people really need on a daily basis, but can I just say that adding a bit of 3-D to one's makeup does in fact elevate face to another level? It's very sophisticated and don't worry, it's all glow, not glitter.
Where does one put it? For example in a triangle from the outer corner of one's brows to the top of cheekbones. Also, try dabbing some on the cupid's bow (no, you will not look like someone with a sweaty upper lip). Dab it on, don't rub.
The packaging is so sleek, stylish and glamorous that you kind of want to have a moment and just appreciate it. In peace and quiet. For hours. The line currently consists of foundations, highlighters, blushers and brushes, but there will be more coming soon.
Westman Atelier will shortly be available at Net a Porter.
Below you will see my lipsticks looking pretty in Central Park.
Luckily it is New York so no-one paid attention to my prepping two lipstick tubes ready for a family photo.